Hit the course with the Girl's Varsity Golf team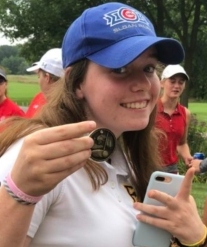 Join the Varsity Golf team to eat snacks on the course, and play a competitive game. Since last year, the Varsity Golf team lost five seniors, who were all big contributors to the team itself. The graduates displayed talent and had great team chemistry, which motivates any team. Although the graduating class had a lot of talent, the Varsity Golf team has excellence to display. With high expectations for herself, successful junior Abby Bell said:
"I hope to at least make honorable mentions for our conference. In our conference if you're in the top ten, you make all conference. The honorable mentions are the people who places eleventh through twentieth in the conference; I hope to receive this."
Along with her aspirations, Abby Bell will contribute a lot to this young team. She is consistently the number one spot on the varsity team, which makes her an inspiration for her teammates and an intimidating competitor.
It is not only intimidating to play high school sports, but to enter into the high school itself. At East Grand Rapids, excellence in sports is valued, but so are kindness and companionship. Meg Simon '23 enjoyed heading into her fall sport early because of how comfortable she felt when she entered the high school.
"As a freshman, it was so nice to be able to walk in on your first day of high school and see my teammates and familiar faces. The upperclassmen on the golf team were so welcoming to my other freshman classmates and myself."                                            
Not only is the golf team a talented squad, they are some of the most welcoming and kind hearted athletes that East Grand Rapids has to offer. In years to come, the golf team will be able to perform at high stakes and carry out the most important tradition of excellence: thanks to the incredible freshman class.