A sweet treat for a sweet cause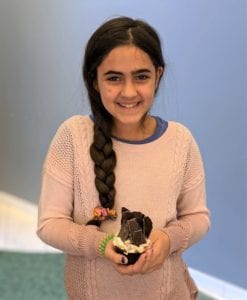 Lilly Vydareny & Gwen Patterson, Staff Writers
December 17, 2019
Photo via Helen DeVos Children's Hospital Website
The Helen DeVos Children's Hospital has given care to hundreds of kids from all over the country. It is easy to see why so many organizations support them. Two fundraisers close to the high school have been put on recently, through a local bakery and a local organization.  
The Salted Cupcake has a legacy of making delicious tasting cupcakes to sell, cater, and ship out from their storefront on 32nd Street in Grand Rapids. But no matter how much frosting and toppings they pile on to their cakes, nothing could beat the sweetness of their latest project.  
This week's menu will feature cupcakes designed by kids staying in the Helen Devos Children's Hospital.  "We were approached by Helen Devos to help them with their annual Radiothon Fundraiser. They partner with many local businesses and thought it would be fun for the kids to invent their own cupcake!" said Korina Thompson, the bakery's founder.  
A special program called Whiz Kids fostered participation in designing. A lucky 6 kids got their dream cupcake designs turned into a reality. The first day of the sales was on December 5 when a classy looking food truck parked in front of the hospital from noon to 6 p.m. The storefront also opened its doors with the special six cupcake designs waiting to be sold. Besides the patients whose designs were chosen, other patients also received coupons to try the cupcakes. Within 45 minutes, they had sold out of their original batch of 300. After an emergency restocking of another 125, it was only another 25 minutes before those were gone as well. The cupcakes will be sold on December 6 as well for a little over their regular price with the proceeds going to contribute to the 20th annual Radiothon fundraiser. 
The Radiothon helps raise money for the Helen DeVos Children's Hospital annual fund, which supports over 20 different programs like the center for child protection, the Pediatric Oncology Resource Team (P.O.R.T.), the Secchia CarePartners program, and many more.  
"This has been the first time being involved with the children's hospital and it was such a positive experience. The kids are amazing and inspiring, and the staff that dedicates their life to helping these amazing kids are positive and inspiring as well!" Thompson said.  
The Billy Bear Hug Foundation was started years ago by an alumni of the East Grand Rapids High School, and it provides comfort and care to kids staying at Helen DeVos Children's Hospital. They also played a part in donating to Helen DeVos recently. "Sometimes we will volunteer in the playroom and hang out with patients if they feel well enough to come hang out. We also will go around and deliver bears to the kids to feel better," said KK Milanowski '23 who is on the youth advisory board, "One of the main fundraisers we do is a golf outing to help support billy bear so that we can deliver bears to kids and send care packages to them."  
Around the holidays, it is important to remember those who aren't as fortunate as ourselves.  Both of these local organizations show how easy it is to give back to those in need this season.  Although it is incredibly easy, it's also incredibly important and impactful. Sometimes the best gift you can give is time and a little extra care to those who could really use it.