Holiday music brings the community together this season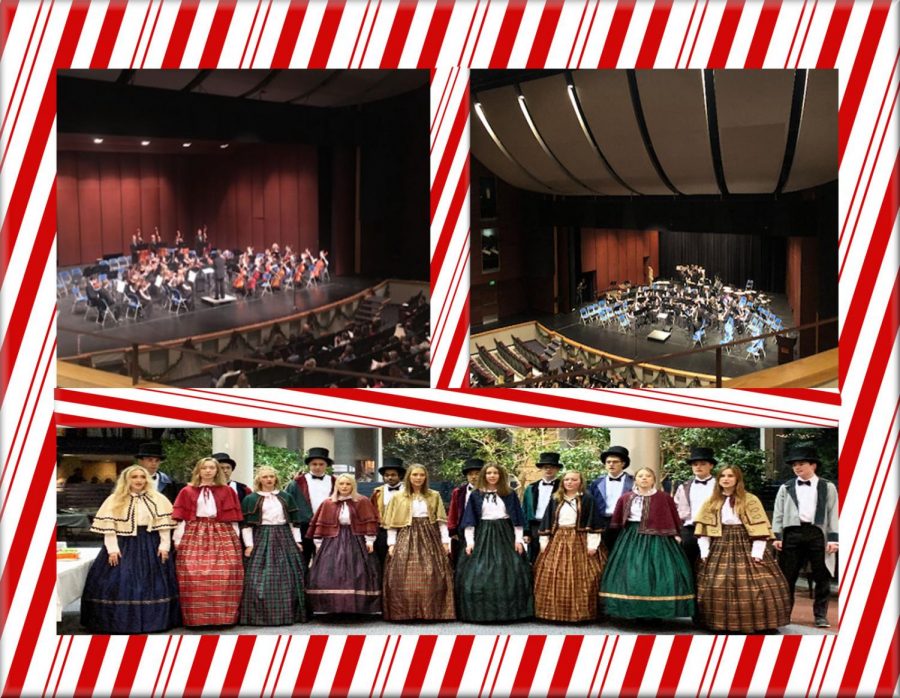 Tina Duoibes & Lauren Bentley & Xanthe Vitaz & Noor Duoibes, Staff Writers
December 18, 2019
Photo edit by Sophie Mustert
As of now, families have decorated their homes, bought gifts, and everyone has listened to at least a few holiday songs on repeat. The holiday season is underway and it has everyone feeling merry and bright. 
Today, holiday music has become much more inclusive across many religions and cultures. EGR Choir celebrates holiday music from around the year during their annual Holiday concert. This year the concert includes five choirs and 22 songs highlighting music from varying religions in cultures including Catholicism and Judaism with different genres like Renaissance. 
The songs are chosen each year depending on a choir's sound and chemistry. However, the Madrigals stick with tradition and stay singing crowd favorites including 12 days of Christmas and A-Soalin'. After the concert, the choirs and audience are invited into the hall to enjoy food and drinks from around the world.
Dr. Jim Borst has been conducting the choir concert for many years, "The concert means a great deal to me," Borst says, "it's the sediment of the season, the community loves it and comes in droves."
 The annual concert brings many members of the city together including those without children in the program. "We are very traditional in this area of the world" Borst comments. "One of the traditions many people put in their life is singing and music." 
Tradition is emphasized throughout the band and orchestra concert as well. However, this year the band concert had the Bella Voce choir sing along from the first balcony during a medley of "The Polar Express" songs.
The concert and symphonic band also had individual performances. They each performed multiple songs for the concert, which they have been preparing for since the end of the marching season. "I look forward to it every year, I love playing in the band and the holiday music is always super fun and interesting," Meredith Christy '22 said. For the finale, they all performed together. 
The last song featured Bruce Towne as a guest conductor fort the song "Sleigh Ride". This simple act was the band's way of honoring all the Bruce has done for the school and the music department."Bruce being there puts a smile on my face, and made me perform better" Zion Tett '22 said. 
The orchestra concert does something different during their holiday concert. In the spirit of the holidays, the high school and middle school orchestra perform during the same concert. Conductor, Mrs. Hilyard, teaches both high school and middle school orchestras throughout the school day. The concert also featured Dan Delano '20 and Ian Walschots '20 playing along during the finale on guitars.
The holiday spirit is definitely woven into these students every year as they prepare for the holiday concert. The music brings the community together to celebrate life and the holidays together. It's definitely the most wonderful time of the year.