Football is back for a spirited season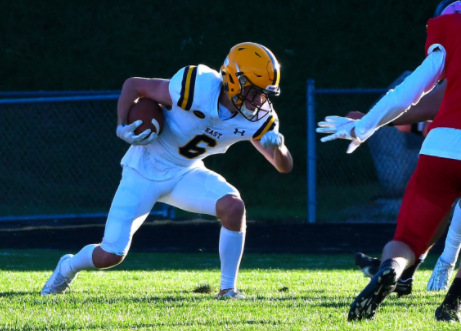 Fall sports are back on track, this year is starting to feel more normal. Fans, the school, and athletes were nervous that their first, upcoming, or final seasons of fall sports wouldn't happen at all. On Sept. 3rd, all of our lost hope changed when Michigan Governor Gretchen Whitmer announced that our fall sports would return this season. 
Athletes conditioned and prepared for the first football game on Sept. 18th, bringing the Pioneer spirit back. People sat in their living rooms, streaming the game to catch every moment of the first football game of the season. This year with all of the unknowns, and without traditional rituals at the school, fall sports bring normalcy back to East Grand Rapids. 
"It's about getting everyone started back up. I'm excited that our kids get to play. They have trained to do so, hoped to do so and this year has been difficult, so I'm excited that our kids will be able to get back out there. It's upsetting that our athletes won't be able to play in front of their peers. The typical Friday night at the memorial field will be different. However, the biggest thing to do right now is to encourage your classmates, and let them know that you are thinking about them and wishing them the best," said Athletic Director Tim Johnston. 
The 2021 seniors were especially excited to start their final season. 
"It felt great to get back, I definitely took playing for granted until it was taken away," said Quinn Vanzee 21'. 
This season, playing time is not something our athletes are taking for granted. The majority of our athletes stated they took advantage of practices and games in the past, so returning to a somewhat normal season meant everything.
"It felt really great, I couldn't wait to get back on the field in august during fall camp, and the two-week break only built anticipation for me, being a senior this year, and not knowing whether or not we're going to play, I've just been cherishing my time on the field and with my teammates more than I ever have before, and I feel that my enthusiasm has carried throughout the program," said Patrick Burns '21.
Students along with many EGR football fans streamed the game to watch and support our athletes. 
"I miss being in the stands during games but watching the stream at a watch party was as close as we could get to it. It was still a really fun time and we were able to get a decent-sized group of seniors while social distancing to watch," Lucy Byam '21 said.
We will continue to watch, support, and cheer our Pioneer pride.