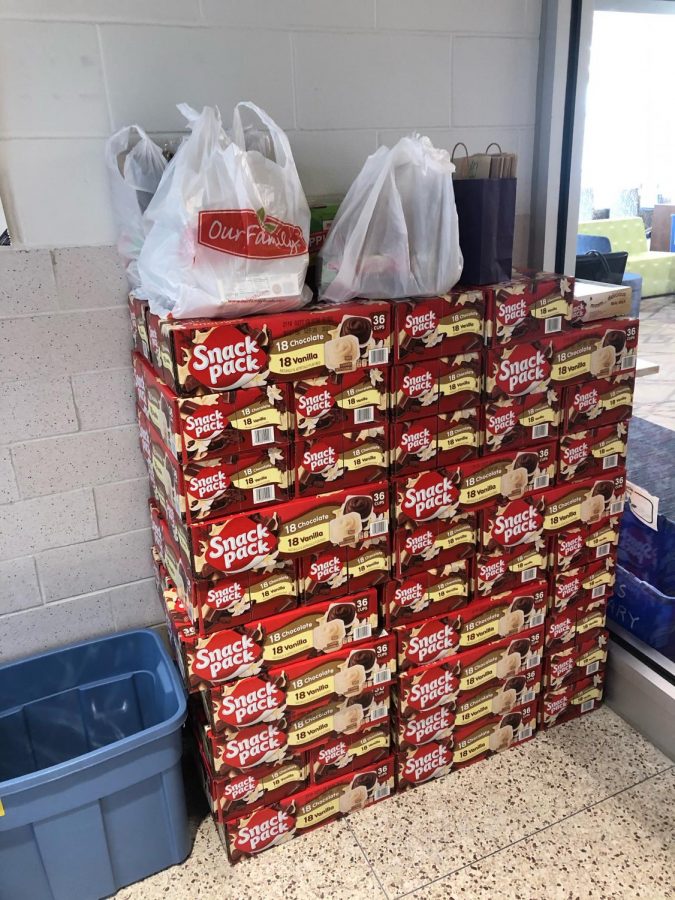 Katie Michell
A stack of brown paper bags sitting next to a box of crayons signals joy as it means there will not be any work to do in class. Yet for some kids, those brown paper bags carry some of their only food for their day. Kid's Food Basket Club is the people at our school who make sure that each class has bags to decorate and organizes food drives. Zoom meetings have become normal in Kids Food Basket club meetings. The club also has expanded its outreach through a newly started Instagram page to raise awareness. 
The Kid's Food Basket club meets about every three to six weeks for roughly 20 minutes. Currently, the club is organizing a few different fundraisers. "We are beginning our season," Billy Beusse '21 said. "We are planning future food drives and projects like stuff-a-bus. We also are designing paper lunch bags right now." 
During the meetings, which are in Mrs. Michell's room. While planning out fundraisers and events they have had to change ideas to be more COVID-19 friendly. "Obviously because of COVID we have had to make a few adjustments to our fundraisers and events, but we are always thinking of different ways to raise money/collect food that is COVID friendly." Celia Bell '21 said. 
Members also utilize social media to raise awareness for fundraisers and expand interest in the club. "We post things that relate to the club." Instagram manager for the Kid's Food Basket club Skylar Bouwkamp '23 said. "And things that are going on with it like food drives and when meetings are." There are new posts when there is a food drive or an activity that everyone should know about. 
Kid's Food Basket is especially important right now as many families are struggling financially due to COVID-19. Kid's Food Basket is a way to spread love and help others in need. "It is important for Kid's Food Basket club to exist because more people need to know about Kid's Food Basket and what the organization stands for," Lilly Kulger '23 said.