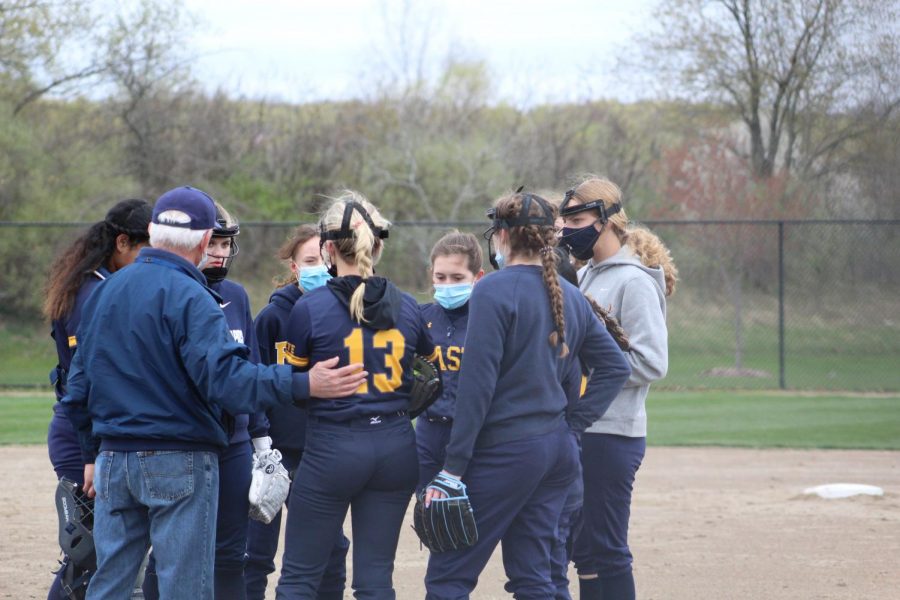 Marcie Britton
The softball team has had a rough start to their season. Currently, the team has won one game and lost five although they are determined to turn it around. 
One challenge the softball team is facing this season is the lack of players participating. There are only enough players to create a varsity team. This means that varsity consists of all grade levels, and a variety of skill sets. 
"Our softball team has been affected by it a lot since we've lost quite a few players, but we've gained a lot of great underclassmen who will carry the team after our seniors leave," Eva Hammerschmidt '21 said. "There are a few people who haven't played the game before, we expect this though with such a young team and the fact there are no middle school teams to feed ours." 
The team is very small this season which allows for tight bonds to be made within the team on and off the field. 
"Team chemistry is very important because you need to be able to communicate and play well with your teammates but also have fun," Kendal Britton '23 said. 
An advantage of playing softball during a pandemic is that it's a very distanced sport. 
"We wear masks in the dugouts and all times except out on the field because it's super distanced out there," Makeda Sanders '23 said. 
As well to ensure a safe season the team is consistently sanitizing any shared equipment. 
The players are all very excited to have two new coaches this season, Besty Hammerschmidt and Howard Talbert. The players are very thrilled to be coached by a new staff. 
"We've got two experienced coaches that I know will build this team to where we want to be and help the newer players become better at the game we love to play," Hammerschmidt said. 
This season will definitely be different than the years past but the team is positive and optimistic about the future.