There is no place like home
Why people return to EGR after graduation
Asha Lewis
Imagine staying in one place for your entire life. Grow up there, live there, go to school there, maybe leave for college but return, raise a family, and retire there. This may sound ridiculous to travel-lovers and explorers, but actually this is the ideal life for many of East's citizens.  
We all know at least one or two families where their parents grew up and went to school here, and now their kids go to the high school as well – maybe their parents even came back to teach here. This is not unheard of, even somewhat expected, here in East Grand Rapids. I applaud all who fall in love with and embrace where they live, and it gives me joy that people love our community so much. If East has treated you well, then I don't see a reason not to come back, if that's your desire.
For me; however, I don't plan on spending my entire life in East, but this doesn't mean that I didn't enjoy growing up here. I've had a pleasureable experience here, from finding great friends, to joining fun sports teams, to realizing my academic potential at the high school. But some good things come to an end, not necessarily from any bad occurrence, but simply because it's time to move on and try new things. I plan on attending college out of state, and who knows, maybe graduate school out of state as well. As of where I will end up, I have no idea. After college, I'd like to live in a big city since I enjoy the city scene. Perhaps I'll live in Chicago, Los Angeles, or New York City – or maybe life will take me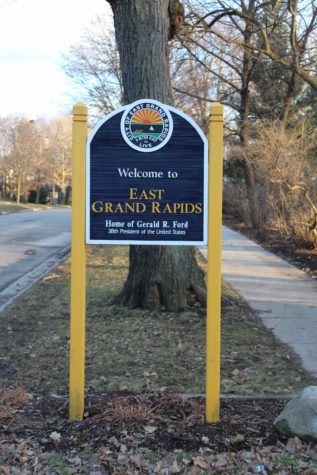 somewhere I'd never think I'd end up. Nevertheless, I want to experience other places first.
Although I'd like to live elsewhere for a while, I'm not closing off the idea to returning back here. Afterall, East is a great place for raising a family and has a great public school system. Everything is close, and the community is so tight and caring. I can see why people would return here, and I know that my brother, Kole Butterer '19, is no doubt going to stay here for the rest of his life. He'll definitely return back after college and live here, and so it is obvious to me the appeal East has on some people.
Change is good and helps us grow as humans. Adapting to change and allowing yourself to explore other opportunities is what makes us who we are. Travel permits us to gain more knowledge of how the world works outside of our bubble and see the struggles and successes of other cultures, groups, cities, and people. The whole world is not one big East, and I think it's important to experience and understand other places and communities, whether you return here or not.