Try new healthy dining options, Clean Juice and Core Life Eatery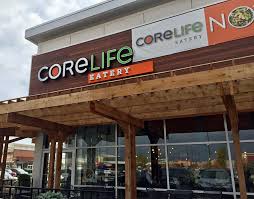 Walking through the doors of CoreLife Eatery, you are suddenly overwhelmed by freshness. You walk to the counter and see the endless green options, wholesome grains, next fresh and colorful vegetables, and to top it all off, countless flavors of dressings. You can either dine-in and enjoy the atmosphere of the restaurant, or take it on the go.  
If you are tired of eating the same old unhealthy 28th street lunch options, it is a good thing for you that Grand Rapids is becoming hip. A few new eateries such as Clean Juice in East Grand Rapids and CoreLife in Breton Village are transforming the community for the better.
Bridget Hollen '19, worked at CoreLife when it first opened in Breton Village. She gives a former employee's insight on how the restaurant benefits the area.
"What I like about CoreLife is that it is a brand new place that brings a lot to the community. Especially by having events for Gazelle where a lot of people who run will come and get a good deal. I like that it brings healthier options to the community," Hollen said.
CoreLife connects with the community to get more people to eat healthy, including runners. However, many students such as Carly Krupp '20 enjoy eating at CoreLife. There are many things Krupp loves about the restaurant.
"I like Corelife because you can really personalize what you order. It's like a healthy Qdoba, because you have your salad options with toppings, along with a wide variety of lemonades and teas," Krupp said. "I think there should be more options like Corelife because it's healthy, fast, easy, and not too expensive."
CoreLife is not the only healthy addition to the area. Haleigh Colombo '20 works at Clean Juice, a juice bar in Gaslight Village with acaí bowls, smoothies and more. Clean Juice is a perfect healthy option for those always on the go.
"I think it's a good addition because EGR is a walking community. People really like being fit here and it is all about being healthy and helping people be their best self," Colombo said.
Sophie Forstner '20 enjoys going to Clean Juice and particularly enjoys their acaí bowls.
"I like Clean Juice because it is a healthy option, and it is important that we have healthy options. I think it is a little bit too expensive, but it is a good addition to the community," Forstner said.
CoreLife and Clean Juice are just two new additions to our community that have made a positive impact. Who knows what trendy and healthy restaurants will come in the future?