The remarkable life story of Mrs. Cone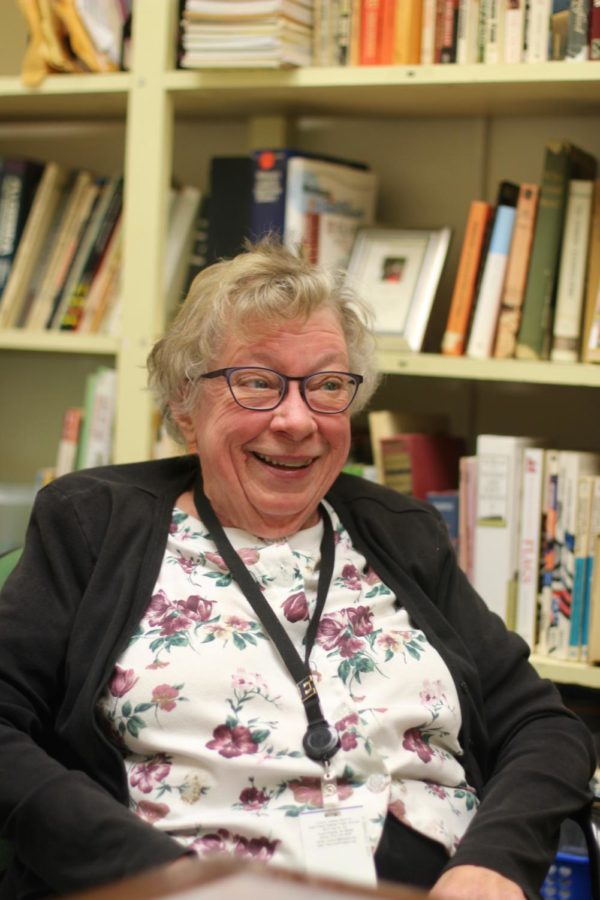 You can find Mrs. Cone in her small room in the narrow hallway by the teachers lounge. Her personal library, stacked with books from floor to ceiling, shows her growing love for learning. Whenever Cone is in her room, she is not only willing to help, she is excited and eager. While some students may know Mrs. Cone quite well, there are many things students don't know about her.   
Eighty-one year old Mrs. Cone has been a private tutor here at the high school for 40 years now.  Ask anyone who has worked with her or received help from her and they will say she knows just about everything.
"I graduated from the University of Michigan with a major in general science and minors in mathematics and psychology, and a teaching certificate," Cone said.
She has accomplished a lot over the years; however, she didn't get to where she is today without facing obstacles.
Cone faced a large number of barriers in getting an education, specifically because she was female. While she was growing up, things were very different and women getting an education was a rarity.
"When we were accepted, my sister behind me by a year and all of my peers, there was a quota on how many women they would accept and it was less than the number of men. And then, there were very few women in the areas that we studied. When I entered the University of Michigan College of Engineering, there were 1300 students and 12 of us were female. The business school would not even accept women," Cone said.  
"Women had rules we had to live by: being in the dormitories at night, eating at limited times, no night classes, we didn't wear slacks or jeans." Men did not have these restrictions: "Men could be in the libraries late at night, but women didn't have access to them."
Despite the many struggles that she had to face to get an education, it was all worth it for Cone today. When asked what she gets out of her job, her response is simply "joy."
"I love coming to school, I tell everybody that Monday is my favorite day of the week because I get to come to school. It is fun for me; it's my passion," Cone said.
She loves "working with students, and working and connecting with the faculty and staff," Cone said.
Cone has formed many bonds with the teachers and other faculty over the years. Cone loves her collection of traffic cones that were gifts from the Custodians. She has them on display on her bookshelf along with the large pine cones she brought back from California (pine cones and traffic cones because her name is Mrs. Cone).
Not only does she love bonding with the faculty, but Cone loves to bond with the students as well.
"It's just fun to be here; different kids over the different years," Cone said.
Cone says one of her favorite things about working here for so many years is "watching [her] students succeed and become known. I've seen two of my former students on Broadway, one has written a movie, a lot of them are professional people, a lot of them are very artistic and are doing wonderful things. The success of the students is really the most important thing," Cone said.
Apart from the people, by being involved in education for so many years Cone has seen many changes to classes and curriculum.
"Math classes have changed the most; chemistry classes have changed also. The approach to mathematics has changed by primarily calculators. We had no calculators," Cone said.
In Cone's day things were very different, even at East.
"When I first started here there were senior pranks, and the seniors would not graduate until the end of school," Cone said.
Evidently, Cone has been making a positive impact to the East Grand Rapids High School community for many years whether it be creating bonds with the students, to bettering their ability to learn, to creating everlasting friendships with the faculty. So if you ever need help with homework or just want to have a friendly conversation, stop by Mrs. Cone's room.