They are cool on the ice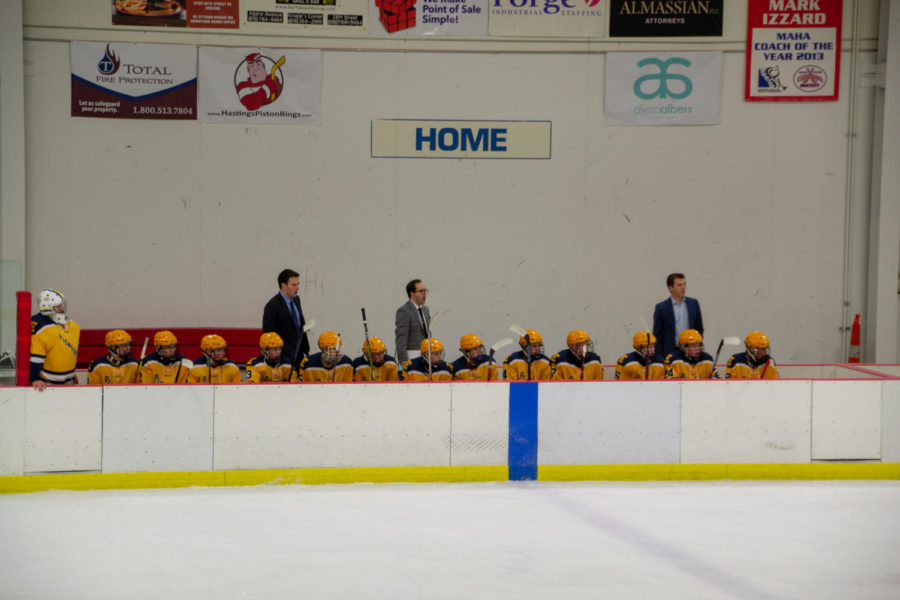 Being on the East Grand Rapids Hockey team means something more than what one might expect. It demands dedication, talent, and most of all, a shared love for the sport. The boys know what they need to do and it's their job to take the ice every day and get it done.
The team is stacked with both veterans and young new players who are looking to get their first taste of what it's like to be an EGR hockey player. Even after losing many very talented seniors last year, they are still looking strong and have given themselves high expectations for this season.
Aside from their success on the ice, the hockey players share a bond like no other.
"We like to get Noodles and Company before the games," Andrew West '21 said.
Together, they have rituals before games and in the locker room which enhance the team chemistry which forms their family.
"I'd say we're like brothers, on and off the ice," West said.
This bond of brotherhood gives the boys someone to play for by their side who is fighting for the same goal. Creating a family-like environment gives the team more of a drive and a special connection to each other. Connected with all of their skills, this will result in many more wins to come from our very own hockey team.
"I would personally love to see East hockey win a regional championship this year as well as a state championship," Graham Gilman-Haslem '20 said.
Gilman-Haslem has been on the team since his freshman year and he has been through all of the great wins and tough losses, but he believes in the talent this year and that the best is yet to come.
The team has the state championship set as their greatest goal and they believe there is a chance to take it home this year. For the past few seasons, they haven't been able to make it too far in the playoffs. This year, however, is looking very different as the team already has a promising record to show for all of their hard work and talent.
"It has gone from a bunch of crazy men running around to having excellent leaders around the locker room such as assistant captain Alex Delvecchio ['19]," Gilman-Haslem said.
The team is focused and well-led by their returning players as they make run in the state playoffs. Even though they have many new players, everyone is confident that they can go for it all.