Seniors wrap up their basketball careers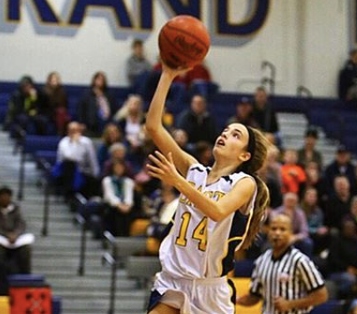 East Grand Rapids' very own Mary Schumar '19 and Olivia Brown '19 started playing basketball together 10 years ago and are now wrapping up their high school basketball careers, again, together. This bond has been a great example for the younger girls on the team, including Freshmen Kate Sheridan and Allie Carlson, who have been playing very well and been large contributors to the team's successes. They currently have an 9-2 record and are feeling confident with the rest of their season.
Although it is Brown and Schumar's last time playing on a basketball team together, they are very grateful that they've been able to play together for most of their lives.
"From our Crushers, Drive, middle school, and high school basketball teams, Mary and I have grown up as great friends and teammates," Brown said. "Since we've played together for so long we have great chemistry and know each other's strengths, so it's really helped us win against tough competition in high school."
The team has already played 10 games so far, but have 10 more until they go to Districts. They're hopeful that they can make it far in their conference this season, so they are going to continue working hard to get there.
"This season has been going very well so far. It's been a lot of fun playing with my teammates. It's bittersweet knowing this is the last time I'll be playing on the basketball court for East Grand Rapids, but I'm excited to see what the rest of our season has in store for our team" Schumar said.
The girls have quite a few home games left, so if you're looking for a team to support or any good games to watch, look out for the team's schedule and go watch them, you won't be disappointed.