Vandenbrink wins state award for excellent teaching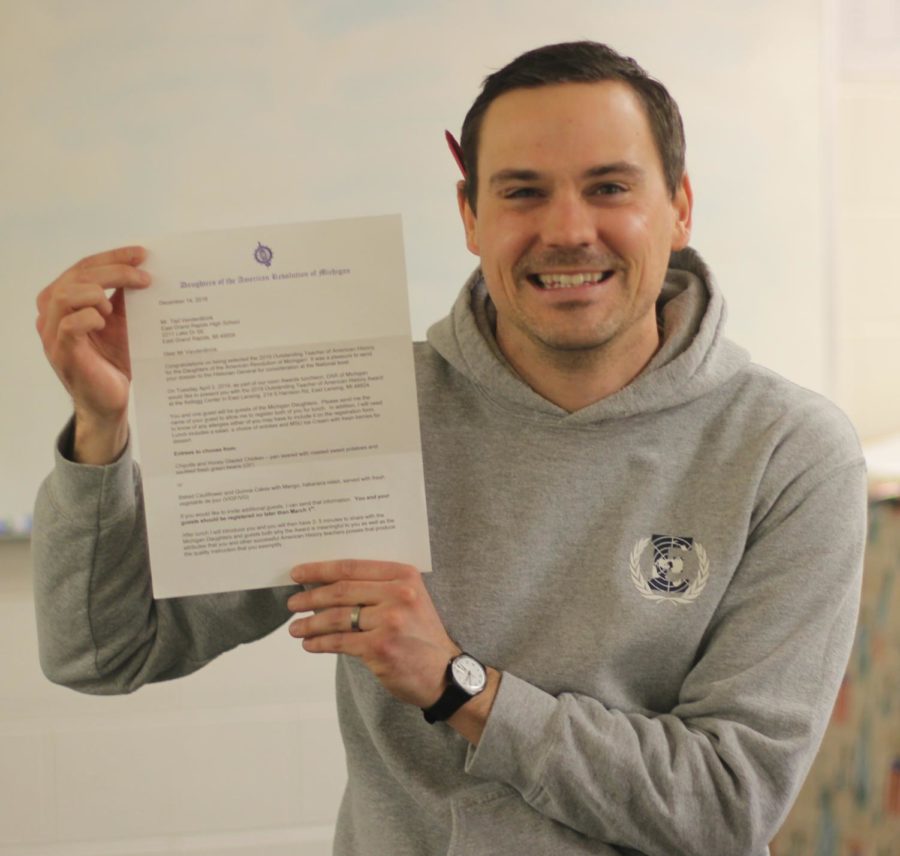 Most East Grand Rapids high schoolers, for one reason or another, are familiar with Mr. Tad Vandenbrink. Whether they have him for US History, work with him for Model UN, or just bump into him in the hallway, Mr. Vandenbrink is a well-known teacher with a great reputation among students. Recently, Mr. Vandenbrink won an award by the Daughters of the American Revolution (DAR) for his excellence in teaching.
The DAR is a 150-200 member organization consisting of women who trace their ancestry back to someone who served for the Colonies in the American Revolution. The organization awards outstanding teachers at a local, state, and national level. Mr. Vandenbrink was nominated by Mr. Weigel for the local chapter, which he easily won. Then, he went on to win the state award, meaning Mr. Vandenbrink will represent the state of Michigan in the running for the national award for his excellence in teaching. Mr. Vandenbrink met all the criteria for winning the award, including showing incisive knowledge about American history, displaying patriotism, relating to students, connecting American history to modern life, and holding high academic standards.
Vandenbrink admits that he was surprised to learn he won the award.
"After hearing that Mr. Weigel, Ms. Mckinney, and a former student all nominated me, I had to submit an application with a little bio," Vandenbrink said. "I kind of just submitted it, not really anticipating that I'd win."
He was very humbled by the award and feels it is best to put the pride that comes with the award aside and continue to teach as best as he can.
"I'm not going to sleep on the fact that I won. I'm just going to continue teaching to the best of my ability and improving every day," Vandenbrink said.
For many, it is not a surprise that he won the award, as he is well regarded for his outgoing personality and talent in teaching by students and peers.
"There are forty-nine other very talented teachers competing for the national award, so I do not expect to win [it], but regardless of what happens I'm very humbled and very grateful for winning this award," Vandenbrink said.
The competition for the national award will be very competitive, and all teachers competing for it, including our very own Mr. Vandenbrink, are exceptional teachers who are very well-regarded in their communities.