Pyper duo going solo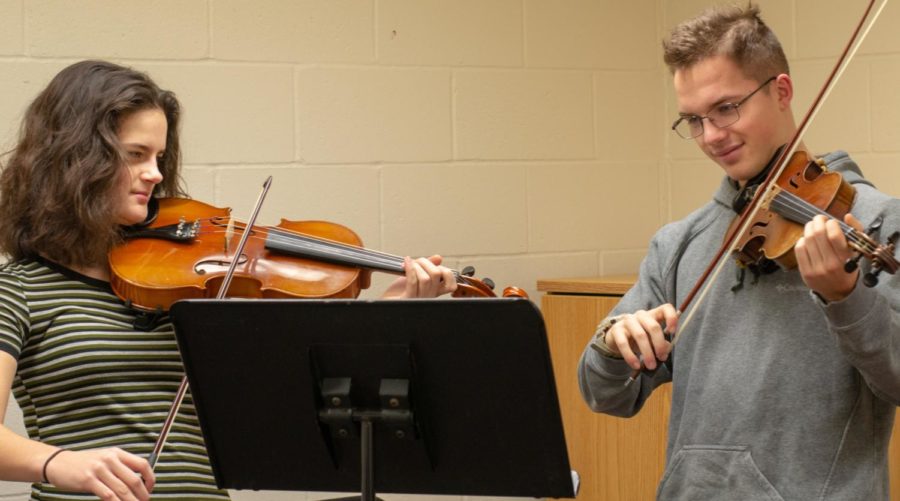 For athletes, it's sports games, competitions, and tournaments. For musicians, its Solo and Ensemble. Every year, just between the last week of January, and the second weekend of February, the Michigan School Band and Orchestra Association, or MSBOA, hold a competition for individual instrument players, and for groups of instrument players (two people or more). These talented young individuals compete for a chance to score between a one and a five, as well as other distinctions, such as superior.
Certain individuals can even qualify for the state orchestra. Young individuals, like Owen Pyper, are working towards qualifying for state, as well as qualifying for the state solo and ensemble.
"It's a goal every year. I've been putting in solid work for it since the fall, and I'm really excited to see the results [of my performance]."
Pyper has been playing Violin since sixth grade, and he has plans to continue next year with his playing skills.
"I would like to continue, with at the least private lessons. I still don't know where I am going to be attending college, but I plan to try out for the orchestra, or keep playing my violin at the least," he said.
Pyper has some real competition, but he's confident he can perform just as well, if not better than past years.
Pairs performing a duet need to work well together, but for the Pyper twins, it is almost too easy. Owen and Audrey Pyper, Audrey who plays Viola, have been both participating in the festival for all of high school, and subsequently have scored well each year.
"We've been doing this since seventh grade [solo and ensemble] and it works out really well that we live in the same house, or else it would be hard to be this good," Pyper said.
Although working together, Owen and Audrey act just like any other siblings act. The two of them spend around an hour a day, outside of orchestra class, practicing to be the best musicians they can be.
As the solo and ensemble festival looms closer, they become more and more focused on the goals they set, and they hope to do really well again this year.