Boys hockey exceeding expectations this season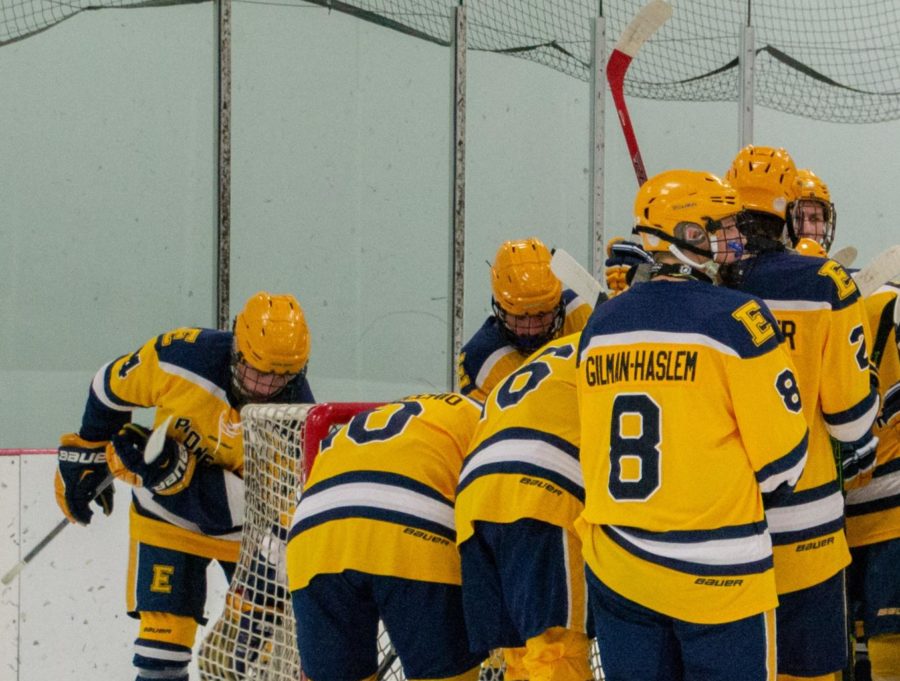 What the community labeled the upcoming hockey season as a "building year" has been nothing short of surprises and domination for East Grand Rapids. The team lost many strong seniors after last season, and were focusing on remaining  strong and making adjustments to having such a young team.
"When the season began I was apprehensive on the successes of our team because we were not used to playing with each other. Although it was difficult in the beginning, the team really proved to not only our community but also ourselves that we can remain as strong as we were last year," senior captain Colin Stecco '19 said.
There have also been some new additions to the team outside of players. Chris Newton has joined the coaching staff. Newton has a much stricter approach than Christopherson, and really tries to focus on the comoratory aspect of the team. Throughout the week, the team gets together for film, team dinners, yoga, and pregame stretching.
"I attribute most of the team's success to the level of hockey our coach expects us to perform at. He takes it very seriously and spends hours analyzing film in preparation for our games. The team has really bought into his methods because we trust his ability to coach and be a leader," Eli Harris-Trent '19 said.
The team has had big victories against some of their toughest competitors. They mercied Catholic Central after mounting an eight nothing lead after the second period. This was followed by a double overtime win against Forest Hills Central. The team has been working on carrying this success to the playoffs.
"We'd like to get more into shape for playoffs. The captains and I would like to build up endurance so the team can stay consistent. After practice and lifting we've started running sprints and stretching as a team," Ryan Padgett '22 said.
The team has eight more games until the  playoffs and hope to continue being powerful.