Cheese cracker drive for Kid's Food Basket was a success!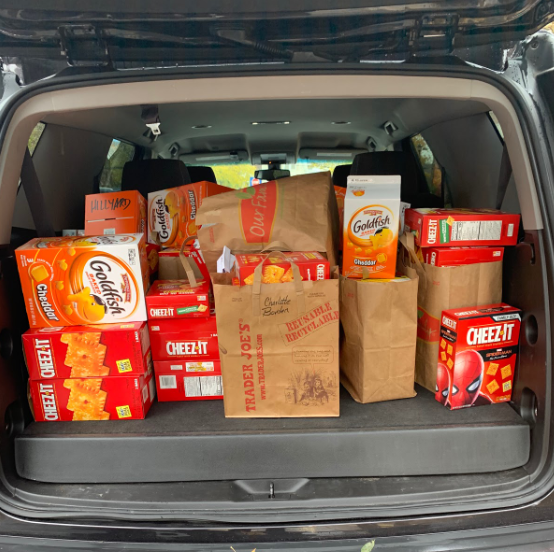 "I joined the Kids' Food Basket Club to support my fellow classmates and to make a difference in the community," said Spencer Millwood '21. Millwood and other members of the Kids Helping Kids Club recently collaborated with Kids' Food Basket to collect cheese crackers for children in need.
"We're collecting crackers for Kids Food Basket to help make meals for kids," said Olivia Williams, a sophomore and member of the Kids Helping Kids Club. This cracker drive will benefit the almost 80,000 children receiving free or reduced meals through Kids' Food Basket. "It is a really cool way to help kids in our community," said Williams. 
Billy Beusse '21 explained that he donated to the cracker drive because giving back to the community is important to him. 
"Helping Kids' Food Basket is important to me because kids need nourishing meals not just to be healthy, but to live happy lives," Beusse '21 said. "I want to help them out because [being] healthy and happy are very important for anyone's life, let alone young children."
Millwood explained that he donated because he knows first-hand the effects of not having enough food. "Kids' Food Basket is important to me because I experienced the problems [of not having enough food] through mission trips, Kids' Food Basket itself, and through church organizations." 
At the conclusion of the cracker drive, the Kids Helping Kids Club successfully collected 280 pounds of cheese crackers, the most coming from Mrs. Edleman's homeroom. These donations will aid Kids' Food Basket in building a healthier, happier future for children in need. It is what Celia Bell '21 described as, "The coming together of East for the good of Kids Food Basket. It's inspiring."