Join Model UN! You will not regret it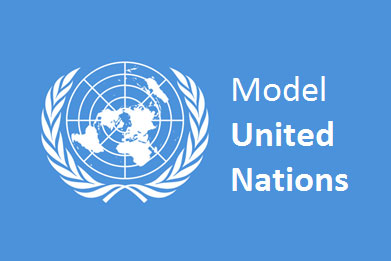 Robert Janes '20 joined Model United Nations (MUN) in his freshman year. He says, "from [the start] I kinda fell in love with it, so now I go as often as possible." This academic club has grabbed the attention of students like Janes across the country. 
Model United Nations, co-run by Mr. Kawel and Mr. Vandenbrink has seen many successes over the years.
"Over the past 7 years we have gotten at least one best delegate at a major conference," Mr. Kawel said. This success has come mostly from the student's passion to learn about news from around the world and their drive to well. 
Anna Budnick '20 said, "I forced myself to really get out there and my main goal was just to talk and to say my piece." 
These skills are learned through participating in this club, and many have been able to take them and apply them to different parts of their life. For example, Max West '21 says "public speaking has helped me for We the People and everyday life."
Another reason that kids love this club so much is because of the conferences. They get to pick and choose the ones they want to go to. East offers four different conferences throughout the year: GLIMUN in Kalamazoo, MUNUM in Ann Arbor, MSUMUN in Lansing, and Aquinas in Grand Rapids. Many of these are three-day conferences and require the students to stay overnight at a hotel near the conference. This can be very exciting and creates a better environment between all of the students participating. 
Many students join this club during their freshman year and continue their path through their senior year. 
One student Gabrielle Krause '22 said, "I plan to do this club throughout the rest of high school." The commitment shown by students is unlike that of most clubs at East. 
Kawel said, "over the past five years, we've been pretty steady and we usually service about 40-60 kids each year."
Model United Nations is important to many different students for many different reasons. Everybody's experience is a little bit different and that is part of what makes this club so unique. Model UN is ready and welcoming to any and every student, and it is great for students to be able to make their own schedules.