Girls Basketball is better then ever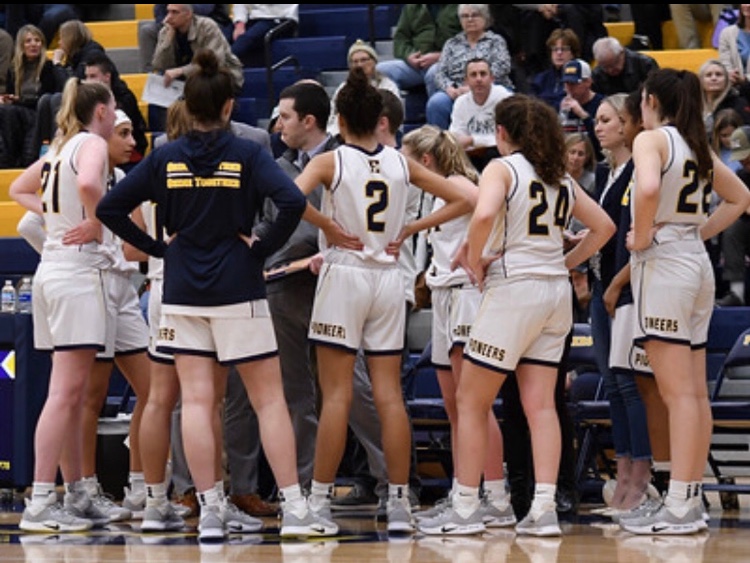 Becca Meyer-Rasmussen & Xanthe Vitaz, Staff Writers
March 4, 2020
The East Grand Rapids Girls Basketball team has always been hardworking and has found many years of success, but this year the team is better than ever with an 18-1 record, the conference championship win, and a second-place rating in the state of Michigan for high school girls basketball according to Max Preps. 
It's important for the players to focus on and work towards their goals, but the importance of personal goals and the overall team dynamic has changed for the better.
"This year, we have been really focused on how to do well as a team and less on individual success," Hannah MacVicar '20 said. 
Along with a healthy and collaborative mindset, the team has found a way to keep their team ideals on them throughout their time on the court. 
"Since the first game, Mikayla has drawn arrows on our hands." Alli Carlson '22 said. The arrows represent unity within the team, they also serve as a reminder to push the ball up the court. 
While it's obvious that hard work and team chemistry are vital factors in the players' success, the team credits their remarkable record to some unique superstitions composed of Tik Tok dances and last-minute doodles.
"Before the games, we go into the locker room and film the renegade [dance]," Emma Henkey '21 said. "We did this the first game and won so we have done it ever since." 
Community support has grown for the team this season but for some players, this means a lot more pressure from the crowd.
"I try not to look into the crowd because it makes me kinda nervous," Macy Brown '22 said. "If I stay focused on the game it helps to get over that fear."
For players who have spent multiple seasons on the varsity team, more people in the stands means more intensity and ambition.
"The local support is definitely important because having people watching adds energy and motivation to our team," Carlson '22 said.
This team has worked hard all season long and is looking ahead to an even more successful future. The support they see from the community and within the program is immense and will aid them on their journey through regionals and beyond.