Spirits rise as volleyball in Michigan begins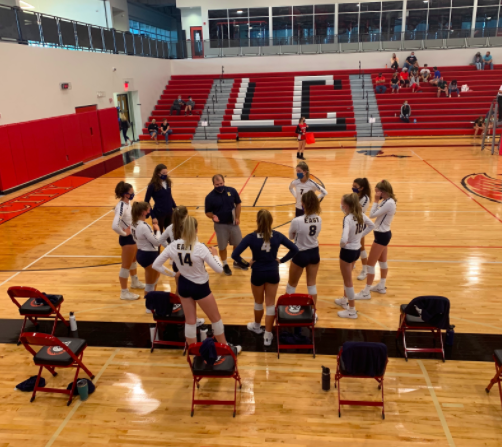 About 30 minutes into the enduring drive up to Lake City, the team got an unexpected announcement that their 2020 season would be a go. 
After the spread of COVID-19 took over Girls volleyball and many other fall sports, the girls weren't allowed to step into the gym all summer. As you could imagine, loads of emotions filled the girls' heads as they were very pessimistic about being allowed back into the gyms for their upcoming season. After spending countless hours during the summer playing in the draining sand, the girls were exhilarated to find out that in the next week they would return to their gym to get ready for the conference season. 
"I feel amazing playing in the gym after playing in the sand all summer," Rachel Meston '22 said. "All the team is 100% more connected to the gym."
The team left the Lake City gym on Thursday, Sept. 3 with a 2-0 record to start off their unexpected season. The energy on the East Grand Rapids bench was overwhelming and filled with excitement as they hadn't been in a gym in over four months. 
"We got the chance to put our skills from sand practice to work and we played really well together for our first game," Conally Cooper '21 said. 
After a long time of uneasiness waiting for the new season to start, the team couldn't be more thrilled to step on the gym courts and start competing.