Sailing team prepares for a smooth sailing season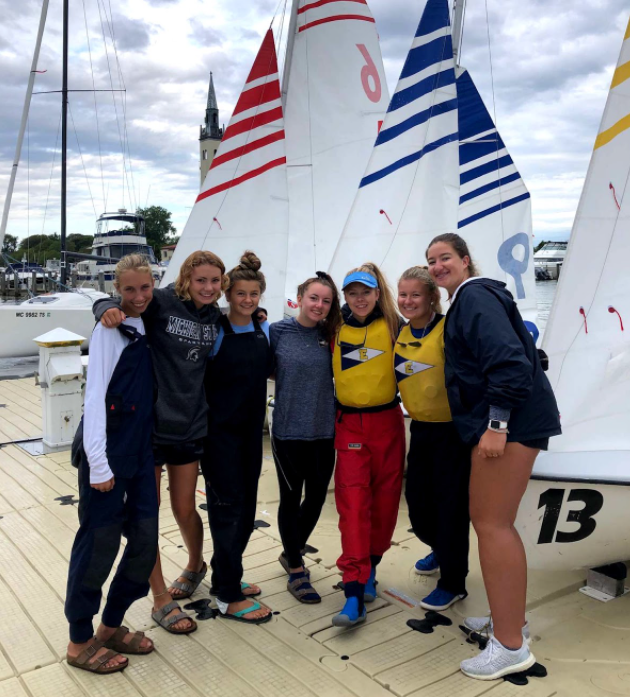 The East Grand Rapids sailing team is gliding smoothly into the 2020 season. Even though COVID-19 has caused some uncertainty with the sailing season, the team has still been practicing at the Grand Rapids Yacht Club (GRYC) preparing for their season.
Sailing practices consist of drills and racing on the water, as were usual pre-COVID-19. Before the team actually hits the water, they have "chalk talks". A chalk talk is a way the team discusses strategy, the day's goals, and future plans. Sailing is a fall sport that usually stretches from Sep. to late Nov., yet due to COVID-19, this season will finish in late Oct.
Throughout their season they attend various regattas. Some regattas they attend are the Culver Regatta, several qualifier regattas in hopes of making nationals, and the Cressy Regatta that has previously been hosted by GRYC. The East Grand Rapids sailing team sometimes will travel many hours for their regattas.
Sailing member, Jenna Wynsma, has been on a sailing team for close to 10 years and is very excited for her third year on the high school sailing team. 
"This season is definitely not nearly as normal due to the fact that we have to wear masks. Also, every year I end up getting hypothermia at some point and this year we aren't able to go into clubhouses, so I don't know how I will warm up after my hypothermia," Wynsma '23 said.

This upcoming season is looking good for the East Grand Rapids sailing team from the fact that they have a consistent team from last year since they had no graduating seniors. So, although this season will be different for every sport, the sailing team is launching right into their season.