Girls XC is back for a promising season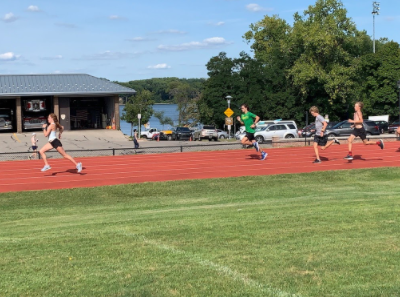 The reigning State Champion Girls Cross Country Team is back at it again for another season, except this time, it's during a pandemic. COVID-19 has affected multiple sports teams, practice times, and games, such as football, swimming, tennis, and field hockey. However, cross country is one of a few teams that has been able to practice in the 2020 summer and fall, school year.
East Girls Cross Country started off their season with a First place finish at Benzie Invitational. Runners Ainsley Workman '22 took third, Drew Muller '24 took fourth, and Abby Petr '23 took fifth. The three girls all ran a 5K in less than 19 minutes for their first race of the season.
Unfortunately for a lot of girls, not all the runners are given the chance to run at meets this fall, due to COVID-19. "I have missed out on running in meets this season, because of [the] Corona[virus]," Sydney Muller '22 said. The race for the top 10 spots has created not only a competitive environment but also prevents every girl from getting a chance to race this fall season. The top 10 spots are important, in Cross Country, because this determines which girls can run at the upcoming races, as spots are limited.
Head Coach Dan Rietberg has taken a few new approaches to practices. This includes new time slots for running at practices, staying social distance during warm-up and cooldowns, and finding places to run with fewer people. COVID-19 has changed not only where the girls can practice, but what kind of social interaction they can have with each other.
A new complication in practices and races has recently occurred. Governor Whitmer released an executive order on Thursday Sep. 8, stating that runners must wear masks during practices and races, and when sitting on the sidelines, a change from a previous policy only requiring masks on the sidelines and before and after practices and games. The governor's statement will make it difficult for the girls to run as fast and perform to the best of their abilities due to difficulty getting as much oxygen through the mask.
Although practice is continuing, it cannot compensate for the fact that team traditions, from past years, cannot occur like before. "I have missed our team traditions, such as beach days, chocolate milk runs, and ice baths in the weight room," Cameron Bodine '23 said. Without these traditions and fun events, the environment of Girls Cross Country isn't the same for previous high school students, and not living up to the expectations for incoming freshmen.
Without the team bonding aspect and memorable traditions, like ice baths and chocolate runs, running is just not the same for all of the girls. Even though this fall school year will be challenging in navigating sports and extracurriculars, the East Girls Cross Country team will continue to practice and run during these daunting times.