Boys Varsity Tennis season ends at State tournament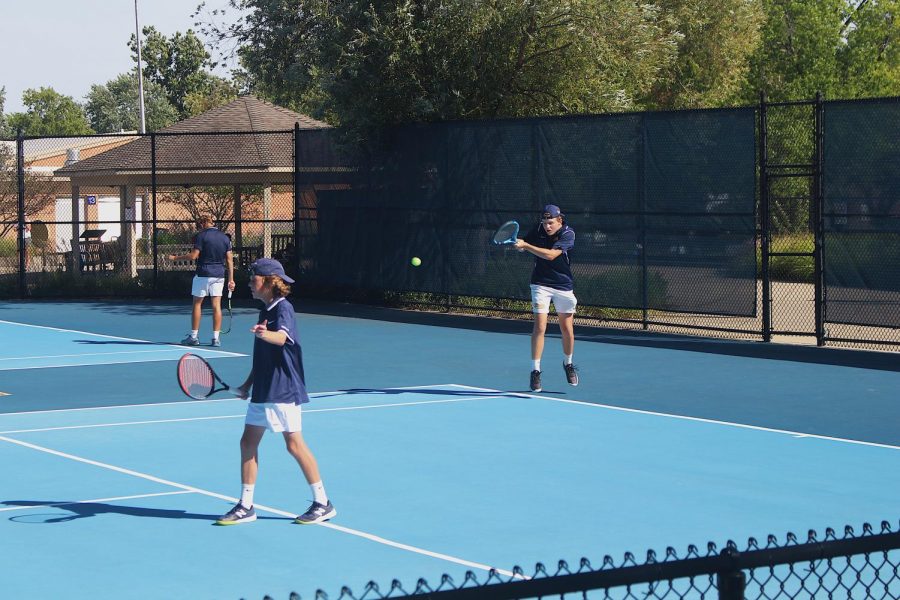 The Boys Varsity Tennis team had no problem winning the regionals title against Cadillac High School. However, states presented a bigger challenge to players due to the tough competition and the Covid-19-based tournament structure. 
"I would say that there is definitely pressure being on the team and particularly this year because of the formatting," Andrew West '21 said. 
West explained the reason there's more pressure is that instead of there being individual flight winners for states, there are only team winners. This means that your match could determine whether you lose and go home or win and move on.
"You and your partner have to work together and depend on one another to perform well," West said.
During their match, Jack Webb '21 and Jack Seufert '21, had to compete in a tiebreaker. This can be nerve-racking to players, due to the added pressure of the extra points necessary to win. 
"The set tiebreaker was seven points, Jack and I lost it 3-7. It was stressful but we were optimistic that we could get it done and move on to a third set," Jack Webb '21 said.
Many players felt that the tournament was challenging due to the positioning of the courts. Especially during high adrenaline situations, it is easy to let your emotions get the best of you. 
"The tournament was challenging because if you see somebody losing on another court, it can bring your self-esteem down as well," Jonah Dujovney '22 said.
Notoriously strong Cranbrook High School, won all 8 flights and moved onto the semis.
"Unfortunately, the rest of the team did not perform that well either as we were swept by Cranbrook 8-0," Webb '21 said.
Changes in the structure of tournament play this year meant they had to win almost every match in order to keep moving up the ladder. Unfortunately, that didn't pan out.
"People were sad that the season came to an end in such an unfortunate way however the team and myself are pleased with the progress we made throughout the season and the relationships we built," said Webb '21.