Junior class student council team up with Billy Bear Hug for class homecoming float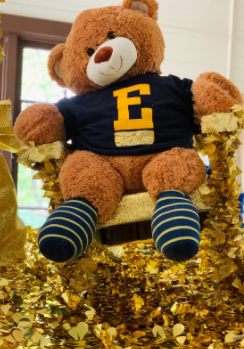 Homecoming week has arrived and so have the class floats for the annual parade through Gaslight. The class of 2022 has chosen the "Goldilocks and Three Bears" fairytale theme to help fundraise for the Billy Bear Hug Foundation for their float. 
"The Billy Bear Foundation's mission is to bring the cure of comfort to kids battling life-threatening illnesses. The bears can be a companion and a piece of comfort during very scary times in their lives,"  Ella Gjorgjievski '22 said. 
Gjorgjevski is one of the Youth Advisory Board(YAB) members from East. The YAB  helps to raise money and build awareness for children with serious illnesses. The foundation has brought smiles to kids' faces during troubling times while battling sickness and continues to serve local hospitals to help families and assist during a difficult time.
The student council has done multiple fundraisers, food drives, and charity work, in the past that have helped the community.
 "We decided to do this fundraiser because our student council believes not only in supporting and enriching our school but also contributing to our community," Alex Bruce '22 said. Bruce, elected president for the class of 2022, has worked closely with Gjorgjievski, and YAB member Sophia Bowkamp '21, to raise money and bears for children that need comfort during this time.
"This year, our goal is to raise as many bears as possible to bring comfort to kids with life-threatening illnesses, ranging in all ages, and their families who are also going through such strenuous events," Gjorgjievski said. The float helps to incorporate the class of 2022's float with a cause that helps children feel comfortable in the direst times. 
"We have spread the news about this fundraiser on Primetime Pioneers and the student council put posters up around the school asking for donations and bears to give to the children in the hospitals that we visit," Brendan Burns '22 said. The council hopes to raise 100 bears for the organization and extra money for the children in these hospitals. 
"Bins have also been placed in the lobby of the school for the collection of bears in each class," Gjorgjievki said.
The junior class has continued to advertise the fundraiser on social media platforms and around the school for students to donate and give to these families, and hopes to win this year's float competition while helping the Billy Bear Hug Foundation bring and be a spark of hope for families.