Varsity Football season finally returned after COVID-19 concerns only to come to an end against Muskegon
The community thought the Pioneer football season had come to an end back in the Fall, however, they all came together one last time this past weekend to support the players for a complete season. 
On Saturday, Jan. 9, the Pioneers played an intense last game against Muskegon High School losing 24-0. With only a week's worth of practice, the players put their best foot forward for the big game.
Playing in Jan. was a switch compared to the traditional fall season. "It's been difficult with practice starting and stopping because it's hard getting back in shape, but it's good we can still play," Jelani King-Leverett '21 said. 
The athletic department and the Michigan High School Athletic Association worked to provide a safe environment for the players and coaches for both teams as the season continues where they left off. Players were required to get COVID-19 tests throughout their last week leading up to the game. In addition, due to health safety concerns, there were limited spectators at the game and no student sections. 
"The games have a lack of energy with no fans so players just try to find a way to make it happen," King-Leverett said. "I think it is dumb because if we can have everyone in-person in school but not even our parents at a football game it makes no sense. For seniors, these are the last few games their parents will see them play."
Through all the struggles, the football team, along with the other athletics teams have dealt with uncertainty, and have gotten through a tough fall. 
"At first when I heard we were planning to play in Jan. I had my doubts," Jackson Mitchell '21 said. "Practicing in the snow and cold did not seem like fun. But it has been a ton of fun. We had a snowstorm the night before our second practice and it was my favorite practice of the year."
A big thing that has been an obstacle for our athletic teams was its inconsistent conditioning. Since the weight room hasn't been open, it was difficult to work out as a team, however, that didn't stop the football team. Players conditioned in the comforts of their own homes to keep in shape while practices weren't in session at the time. 
"I did lifting but no cardio, practice is helping us get back into it," Jack Haueisen '21 said. Once practices were permitted, the team continued their practice outside on the field in preparation for Saturday's game. 
It was a bittersweet ending for the players, especially the seniors, but the work they have put in this season still paid off.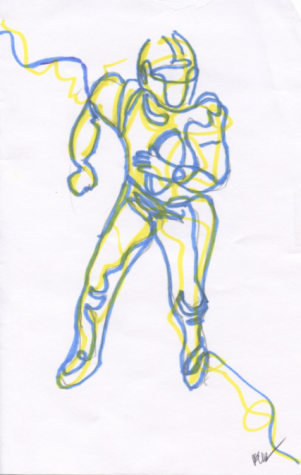 Art by McKenzie O'Conner