Football Drops Home Opener Despite Furious Second-Half Comeback
The Pioneers lost their home opener to Zeeland West last Thursday, 44-27. Despite trailing early, East Grand Rapids went on a 20-0 run in the second half, before a late Zeeland touchdown sealed the victory for the Dux.
"We played well, we played better in the second half," Quarterback David Bernecker '22 said, "I think if we had the energy we had in the second half in the first we could have won that game." The scoreboard echoes that sentiment, as the Pioneers outscored the Dux 20-14 in the second half.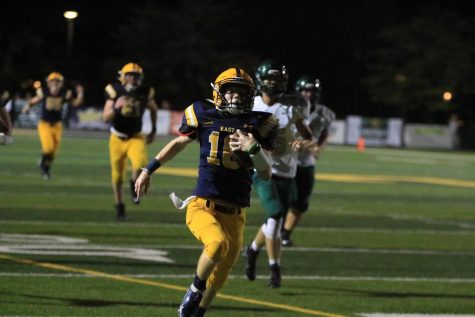 One bright spot for the Pioneers was the ground game. Drew Caswell '23 ran for 148 yards and 1 touchdown, and Nathias Grady '22 added 58 yards and 2 touchdowns. Quarterback Preston Bergstrom '23, who entered the game in the second half for the injured Bernecker, ran for 55 yards, including a 48-yard touchdown run. 
Now, the Pioneers must pivot to their next matchup against South Christian on Friday, September 3rd. "We're excited to see a different offense from South instead of having to play a Wing T ( a type of offense that Zeeland West ran Thursday)," Nick Collins '23 said. "We are making sure we know what's going on in the passing game because South Christian loves to pass the ball." Bernecker is back from injury and will be starting under center for the Pioneers. This is an important game for East, as it is never good to start 0-2, but the players believe the work they have put in this week will pay off.  "Practice has been great the past few days, the intensity has been up all week," Collins said.