A Look Back at Black History Month in the High School
Students Reflect on How the Community Recognizes Black History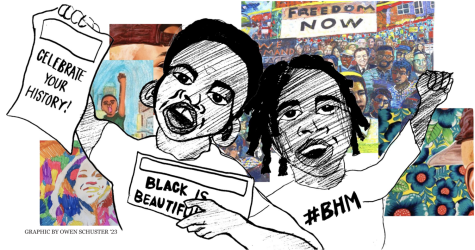 This month, the celebration of Black History has especially great importance as February is Black History Month. As the month comes to a close, students reflect on the positives and negatives of the school's observance of Black History, and how music has been utilized to create a lasting impact on students.
Kamdyn Holman '23 said the school should be making a better effort to promote Black history, especially during February.  
"I really think that there should be more posters around the school with history and facts that could bring awareness and help people better understand what it's all about," Holman said. 
Holman is not alone. Other students thought Black history should be taught differently.
"It would be nice when we learn about important Black figures if we didn't learn about just the same two every year," one student said. "I think it gets downplayed that there were a lot of other people that are important."
The club Students Promoting Equity through Action and Knowledge or S.P.E.A.K also believes this is important. On Feb. 15, a slideshow was played commemorating many Black historical figures that played a significant role in history.
Black History Month is dedicated not only to commemorating the struggles and hardships Black people have faced in the past, but also to the celebration of their achievements, the barriers that are being broken, how far the human population has come, but also improvements necessary to implement.
While the school still has progress to make, there is a lot happening in the music department to honor Black History Month. The first orchestra concert of 2022 happened in February, and the 8th grade, Pioneer, and Varsity orchestras all played the Black National Anthem and Lift Every Voice and Sing together at the concert.
Many students recognized and praised the music department's efforts. 
"I think we all enjoyed playing those really powerful songs and being a part of that experience together," Lauren Thole '25 said. 
While strides have been made in the field of music, it appears that the school still has a lot of work ahead of them when it comes to the experiences of Black and other minority students. Many voiced opinions not only about awareness but about increasing diversity and uplifting minority voices. 
"There isn't always a lot of opportunity for people of color and minority groups to come to East, so as far as making attitudes towards minorities more accepting, I don't know how you tackle such a big problem, " Edward Prentice '24 said. "But I'm sure we can and need to."
Around the city, new street signs were implemented honoring Civil Rights activists. 
Under the slim blue sign reading, "Grandville Ave SW" in white letters is a green sign: "César E Chavez Ave SW." Franklin St SE now has the sign, "Martin Luther King Jr St SE." Around the city, other events include a series of virtual concerts at The Grand Rapids Public Library, two photo-based pieces of artwork representing race and class at The Grand Rapids Art Museum, and book signings at the Grand Rapids African American Museum.
This article appeared in the February edition of The East Vision.