Beloved Cleaning Machine Ignites, Causes Two-hour High School Delay
Students awoke on Feb. 3 to a message from the school announcing a two-hour delay. Such an event is rare in East Grand Rapids. Though, instead of probable inclement weather, an equipment fire was the culprit of the school's delayed start.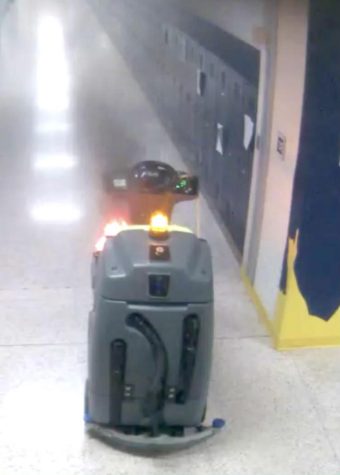 "A piece of cleaning equipment caught fire in the EGRHS cafeteria," the notice read. "We need additional time to clean the area and mitigate the operational impact." 
Another notification from the school soon followed, briefly explaining that sections of the high school's first floor and the Bagley entrance would be inaccessible due to the aftermath of the accident.
While students adjusted to this inconvenience, rumors circulated. 
"I thought everything was mysterious and hidden," Liesel Trost '25 said.
However, it did not take long for the news to break that the beloved cleaning machine was the cause of the morning's delay. While commonly referred to as a Zamboni, the actual equipment has no ties to the company. 
"I figured it out pretty quick," Bella Baas '23 said. "I was quarantined when this happened and saw there was an email. Soon, everyone was sending information to each other on social media and stuff."
"This is called The Brain," principal Craig Weigel said. This was an investment made by the district in 2019 to improve custodial efficiency. 
"We are always looking to empower our team to enhance productivity," Assistant Superintendent of Finance Operations Anthony Morey said. "This machine can be moving autonomously, which frees people to do more talented work." Instead of requiring an employee to spend hours on the gym floor alone, this allows for increased sanitization elsewhere.
As the pandemic progresses, an improvement in custodial efficiency is of the utmost importance to the district.
Such a high-tech investment would not be expected to catch on fire on a snowy Thursday morning, but it did.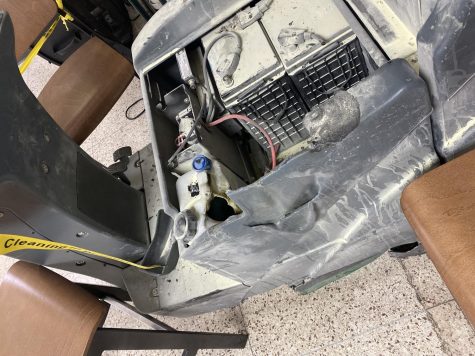 The district is currently processing fire department investigations and insurance meetings to determine the true cause of the incident and how to move on. However, there are theories on how the machine first began smoking.
"We have a strong suspicion that the fire started in the batteries, but this is speculative because we are still pending a report by insurance partners and the manufacturer," Morey said.
Given the parts of The Brain that appear to have suffered the most damage, the hypothesis that a battery ignited the flames may be probable. Though, no recalls or warnings have been issued by the machinery's manufacturer and distributor. 
Clarity is near, pending final investigations by the fire department, insurance partners, and manufacturer. Until then, the halls of the high school may be missing the familiar sight of automatic cleaning equipment roaming around.
This article appeared in the February edition of The East Vision.