East Hosts Annual Music Festival
The Band and Orchestra hosted their annual music festival this week to measure their ability by playing various pieces.
On the week of Feb. 21, students from schools such as Lowell and Grand Rapids Christian came to the East Performing Arts Center to participate in the music festival and measure their ability against other schools with both pieces required for the festival and some chosen by the students.
"At this event, schools from all over West Michigan come to perform in our Performing Arts Center for the opportunity to work with amazing clinicians and adjudicators," Jake Castillo said.
"There's a list of required pieces, bands are required to play at least one of those," Eli Robinson '23 said. Eli Robinson plays flute in the Symphony Band. This is only his second time doing the festival despite him being a Junior, due to COVID-19 cancellations of previous years.
As East hosts it, our music teachers direct and organize the event. Volunteers from the band and orchestra act as guides to lead the other schools' around.
"The visiting bands leave instrument cases in the gym, warm up in the band room, and perform in the Performing Arts Center," Robinson said. "Guides bring them around to all these locations."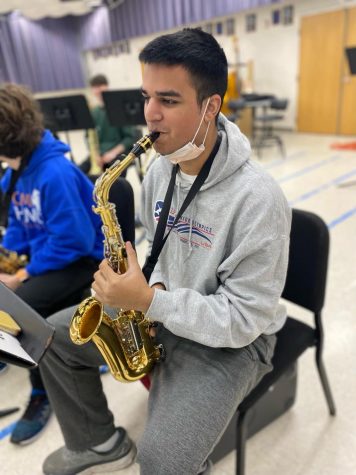 Gracie Cole '23 plays the viola in the East Orchestra. She was thrilled to participate in the event based on her orchestra's training.
"We have worked very hard on the pieces we are performing so I'm very excited to see the score we get," Cole said.
The judges give scores based on performance. An exceptional job receives a one, while if the judges believe the group has more work to do they give a two or three. While there is no trophy for doing better than other schools, students strive to get the best score they can.
"It's mostly just individual schools trying to get a one, which is the highest score," Cole said, "In the past, we have done very well."
On Wednesday the eighth-grade band, Concert Band, and Symphony Band played throughout the morning. The eighth-grade orchestra, Pioneer Orchestra, and Varsity Orchestra performed on Thursday. The event was open for the public to watch each group's thirty minutes on stage. 
"Hosting this Festival is a large undertaking and an act of service from us to our instrumental music community, which has given so many life-changing experiences to our kids," Castillo said.
This article appeared in the February edition of The East Vision.