Inside the Guidance Office
This story is featured on Focus Page 8 from the February Edition of The East Vision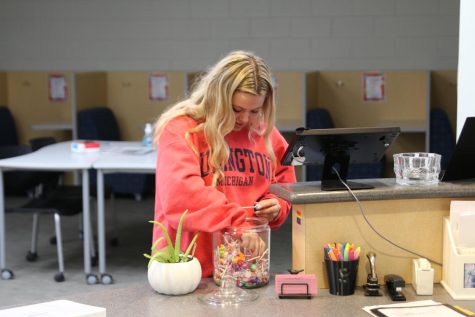 To a senior, there is no sight more familiar than the front side of Carolynne Allaben's desk. Decorated with potent hand sanitizer, an overwhelming array of forms, and an alluring candy jar, the numerous distractions of the reception area are sure to take seniors' minds off the college application process. Behind the desk, however, exist a series of offices–and college assistance is just one of their many responsibilities.
To Katie RietKerk, it's also keeping track of more than 330 pupils. 
Each member of the counseling team is responsible for providing key academic support to their assigned third of the student population, and on any given day, this support comes in many different forms. 
"The counselor's job is to provide academic, social, and emotional support in college and career preparation," RietKerk said. "Those seem like distinct areas, but they encompass all of high school life. Everything from advocating for students who miss school because they need physical or mental support to helping students with 504 and IEP plans. It's just kind of all-encompassing."
Between scheduling, personal counseling, and necessary communication to colleges and other academic institutions, there isn't always enough time for normalcy to exist. Like RietKerk, guidance counselor Elle Burgess also offers valuable direction to over 300 students.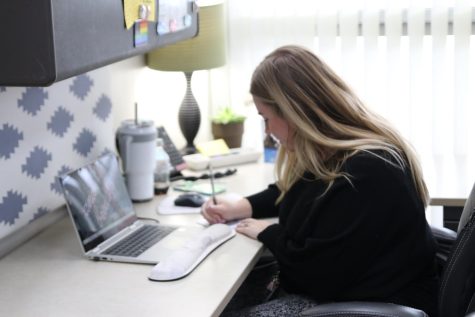 "Our days are so different. One day, it could be really focused on the college prep because it's closer to deadlines," Burgess said. "But even that talking with students about work or anything beyond high school can quickly turn into a social or emotional issue at the core."
And while no single day can be considered "normal," the college admissions process always finds a way to be front-and-center. As many students continue to navigate the difficult college admissions process, the guidance counselors measure success by perspective, not an acceptance letter.
"I think as long as students leave high school feeling confident that they have something they can be successful in that's going to further their training or education, then they're successful," RietKerk said. "And I'm a big believer that college is not for everybody."
On top of the challenges presented by the pandemic, the guidance office has undergone heavy changes in the past few years. The college admissions process, one of the office's key responsibilities, is no stranger to this change.
"We're very fortunate to have access to resources and support throughout the community," Burgess said. "The college process looked different because of some delays in processing materials, in announcements, or sharing feedback to students,."
But despite these pandemic-induced challenges, the counseling team comes face-to-face with as many old problems as new ones.
"Senioritis is real. I understand the seniors–and the weather doesn't help. Let's be honest," Burgess said, "So I try to remind students that, on the college side, they want to see students finish strong."
The guidance office also houses the office of Student Service Coordinator David Dublis. Much like the counseling team, Dublis has a wide variety of crucial responsibilities–except his are almost entirely online. 
"Four days of the week, I'll make contact with about 160 kids each week," Dublis said. "My primary focus is working with those students taking Michigan Virtual classes online, working with colleges and dual-enrolled students, as well as checking up and mentoring them."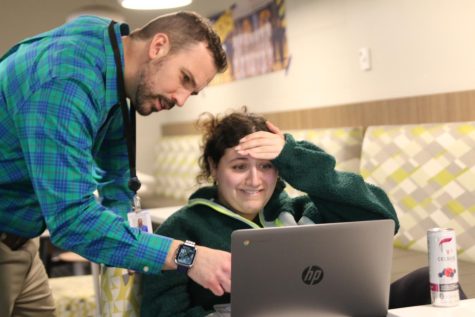 A new face in the hallways, Dublis can most often be found outside of his office.
"I prefer to meet the students where they're at, whether it's hanging out in the lobby, in class, or having them come down," Dublis said. "I try to be as mobile as possible to make it easier for kids to see me."
But even though his job extends to online courses, Dublis emphasizes his goal of continuing to work with students to foster good study habits and a safe, effective learning environment.
"I love seeing them succeed," he said."I love seeing them find success in online classes. Finding freedom in their online class while at the same time maintaining the discipline to go ahead and learn the skill of time management is really what taking an online course is all about."
Between walk-in appointments, planned meetings, and the day-to-day issues characteristic of the job, one thing is certain: there is no such thing as a normal day in the guidance office.