Girls tennis takes the court as spring weather rolls in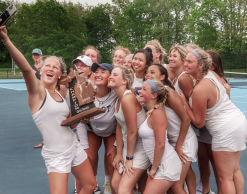 Coming back from last season, Girls' Varsity Tennis has lost nine seniors out of the sixteen girls on the team. Not only has the Varsity team seen many roster changes but so has the coaching staff. The team lost their assistant coach to another high school tennis program. With only seven Varsity players returning from the previous spring season and having a new coach, it will be interesting to see the team's new dynamic with Varsity spots being competed for. 
The lack of seniors on the team may come off as a setback for this season, but the girls are motivated and have many goals set for their upcoming season.
"I am really excited for this upcoming season because no one is going to play the same seed and our new assistant coaches are going to give our whole team a new dynamic and a new set of skills," Ava Godlewski '23 said. 
This season Lindsey Cahill, Julie Wiseman, and Mark Henderson are the assistant co-coaches. 
The tennis team is now pulling up rising juniors to varsity to help fill the spots of the graduated seniors. There are big shoes to fill belonging to last year's regional winners but the team has the motivation and drive to perform their best and form a new dynamic team.
"The best part about playing on the high school tennis team is the number of people I have been able to meet. Since I was a new student last year, I didn't know very many people.  tennis has allowed me to meet people that are not in my classes at school and mainly people from other grades," Reiley Hoefer '23 said.
When it comes to chemistry, the Pioneers have plenty of team bonding opportunities throughout the year. Whether they are eating an organized dinner at someone's house or if it's a last-minute trip to Qdoba after a match or practice, the girls make it a point to be together. There is always plenty of time for the team to bond outside of practice. The matches also allow the team to bond with a lot of time between matches to talk to other players while their teammates are playing on the court.
"Our team and new assistant coaches are optimistic to make it to the state tournament and maybe even further if we can bring the same energy and dedication as last year's team," Ava Godlewski '23 said.
Overall there are very high expectations for this upcoming season with the new assistant coaches as well as the talent on the team. The players are motivated and excited to see what their upcoming season has in store.