The dedication behind Bodine's success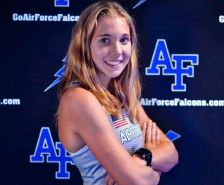 Coming off an incredible 2022 track and field season Camryn Bodine '23 looks to break her own record and be a back-to-back state champion in the 800 meter. Last year Bodine ran a 2:12.46 obtaining a personal and school record. Not only did Bodine have an incredible meet individually but she also heavily contributed to the girls' track and field team winning the division two state championship. 
Bodine first started running in track meets during middle school and found a passion for the sport so continued on throughout high school. Bodine ran on the varsity cross country team all throughout high school and during the spring she would participate in track and field. 
Bodine's dedication to her training has led her to the success that she has had in her career. Her intentionally planned and well-executed training sets her up to perform well in meets. From skipping social events or waking up early, Bodine knows that sometimes putting her training first is most important to see the results she has envisioned for herself. 
"Throughout the course of a year, I have two scheduled weeks off from running in total so there are certainly many sacrifices that go into running as much and often as I do," Bodine said. 
One thing that has been motivating for Bodine is the large support system that has stuck with her throughout running career.
"I have just really enjoyed being surrounded and pushed by such incredible talent because it makes winning and breaking records more exciting," Bodine said. 
 She has made lifelong connections with teammates, but most of all she has been showered with support from her family. Her family has supported her through the ups and downs of running cross country and track but they have also been her biggest fans through it all. 
Bodines love for running came from her dad. Bodines dad ran track at Penn State University, so the sport has always been important to her family. As well Bodines dad has also been a huge help to her success since he shared his experience and knowledge about running with Bodine to help her excel. 
"My dad trained me all through COVID-19 when track was canceled and all throughout the off-season as well as providing input in season. He also is always there to give me advice and critiques on my racing strategy," Bodine said. 
Last year Bodine had an absolutely unforgettable season. 
"Breaking the school record and winning the 800 meter at state was so fun, but it was even more fun doing it at the same time as Drew Muller breaking the 1600 meter record," Bodine said.
 Bodine recently finalized her future plans; she has committed to running and studying at the U.S. Air Force Academy. Since the beginning, Bodine has aspired to run in college, and seeing the countless hours and dedication she has put into the sport, finally coming to fruition has been a surreal experience for her. 
There is no doubt that with Bodine's work ethic, she will continue to succeed. With the track and field season just starting she looks forward to one last high school season along with her teammates.