Boys golf swinging their way into the spring season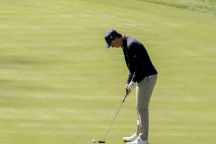 Spring is in full swing and the boys' golf team is ready to tee off. After many long winter days, the boys are finally able to get back out practicing at Indian Trails. This season the golf team plans to put in the work on and off the course.
"I think one major goal for us this year is to make it to states," Sam Putt '24 said, "We narrowly missed it last year with a 7th place finish at regionals, but we were a young team last year with only one senior, so this year with all but one member of the team returning with a year or two of experience, we can make it to the state tournament."
One member who is trying to return is Charlie Seufert '24. Seufert was one of the top scorers last year and is hoping to return to the links before the end of this season. Seufert was sidelined in Jan. after a heart transplant. He is still recovering, but eager to return.
"Charlie last year was an integral part of the team because he wasn't only the best golfer, he was also an amazing teammate," Putt said. "He was always supportive and encouraging and always kept us laughing with his personality."
Future prospects are looking strong with underclassmen Henry Pratt and Andrew Owings, but there is strong leadership potential from Mitch Stuursma '23 and Jack Behler '23.
"Our biggest rival, Grand Rapids Christian is always a difficulty for us. We hope to beat them this year while boosting our confidence to hopefully qualify to states," Behler said.
Because they have some tough competition this year, it is vital the team stays focused on their performance and hard work during practices so that they can succeed in their upcoming season.
"A typical practice usually consists of short games like chipping and putting, and then we also usually have some driving range time as well," Putt said, "Occasionally we play when we're getting ready to play at another course and especially in the days leading up to the conference jamboree at Kent so we can play our best at our home course."
The golf team plans on stepping up even more than previous seasons to meet the standard to compete with challenging teams. Since various amounts of their tournaments are not in Grand Rapids, traveling and early dismissal are necessary for their success. 
"A lot of the golf tournaments and jamborees we participate in throughout the season do happen during school," Behler said, "So we do miss a lot of our classes. However,  I was able to manage the workload pretty well."
The boys' golf team has high expectations for this upcoming season and is ready, prepared, and willing to make sacrifices to excel in states.