World Language Department hosts trips to Cuba
Reflections on the 2017 trip and preparations for the coming 2019 trip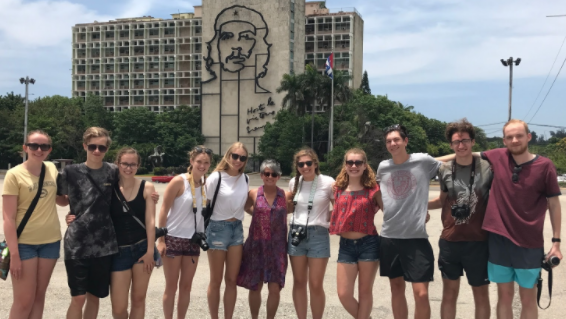 A seven-day long escape to the sunny caribbean for a week of dance, music, art, and good food: what more could a student stuck in classes all day want?
For ten high school students, this became a reality, through participation in the world language department's Cuba trip late last June ― and, according to participants Kat VanEss '18 and Libby Moskal '18, this year's experimental trip was an overwhelming success.
"The most interesting part of the trip was definitely learning about the Cuban culture and seeing how different Cuba is from Michigan," Moskal said. "We walked through the different cities and learned about the history of every place while looking at the beautiful buildings and mountains."
Participating students got the opportunity to watch multiple performances by local dance groups, visit local farmers, art galleries, and other cultural centers, and got to tour the art-transformed village of Jaimanitas, the capital city of Havana, and the historical town of Santa Clara ― an itinerary full of excitement and entertainment for students of all interests.
"One of the first things that we got to do was Compas Dance, and they did body percussion and they also do percussion on chairs," Vaness recalled. "In Cuba they have wooden chairs with like, leather seats, almost like a drum, so they take drumsticks and they drum all over it, and it's just very, very cool."
Cuba has put an emphasis on preserving culture and heritage through the arts since it was founded, and this still clearly shows through today: from the murals that decorate seemingly every inch of wall in Havana to the brightly colored homes and retro-style '50s-era cars that are the only vehicles on the island ― even if this hasn't always been the American impression of the country.
"I think taking back the misconceptions that a lot of us have about Cuba was the most interesting part of the trip," VanEss said. "You learn about it in US history, and we hear about the extensive poverty, and all these bad things about Cuba, but we don't learn about all the good things there are. Like, the houses weren't new, not fancy, but what stuck me the most was that people don't mind that. Everyone was just so, so happy to talk to us and have us there."
The next Cuba trip will be running in June of 2019: another opportunity for 24 Spanish and French students to have a week of culture, art, and fun. Interested students should keep an eye out for the announcement of an informational meeting for the 2019 trip coming up early this October, where they will have the opportunity to sign-up for the 2019 trip and receive and early sign-up discount.
"I would definitely recommend going on this trip because I loved every moment," Moskal said. "Even though I was only there for a week I fell in love with the places, people, and culture so quickly that it felt like home."