We the People team wins 15th State Championship
With their confidence crushed at districts, through grit and hard work the EGRHS constitutional scholars came out on top at states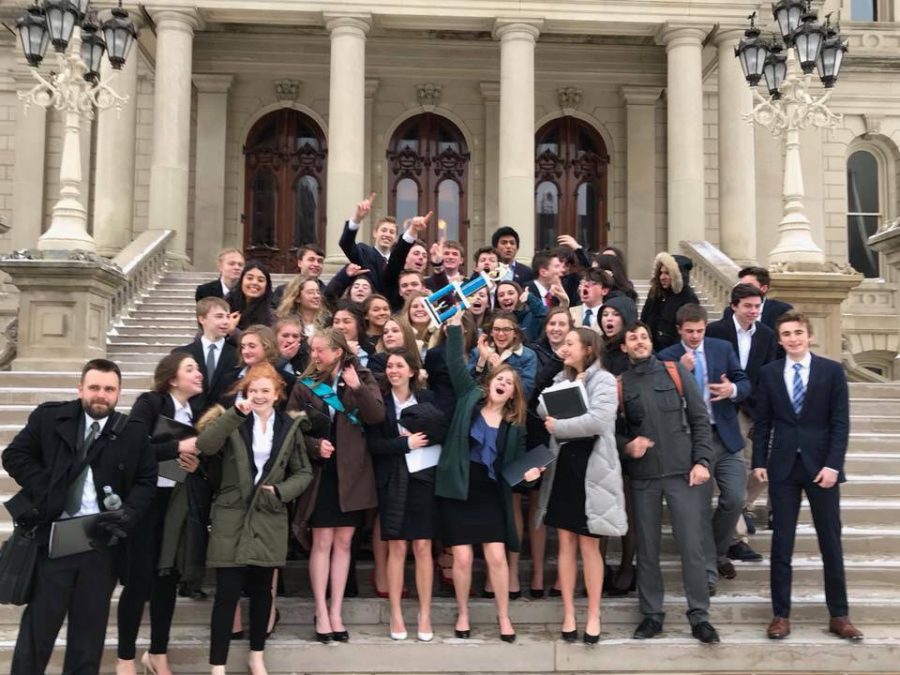 On Jan. 12 the EGRHS We The People team took their seats at the Michigan State courthouse to compete for the state title. After a disappointing performance at Districts the team was looking to redeem themselves at the state level. However, they didn't just vindicate themselves, but they also surpassed their own expectations along with those of everyone else who was watching. They took 1st place at states, which means that they now get to go and compete in Washington D.C. at the national level.
"When they started to announce the top units, it was a big surprise. But looking back at it now, the students earned it," We the People teacher and head coach Adam Horos said.
This may seem like the norm for the We The People program, but due to recent change-ups in the teaching staff the transition wasn't expected to go this smoothly. It has only been 2 years since former teacher. Janice Yates handed the program off to Adam Horos. In addition, one of the key contributors to the program, Alexander Constantelos, left EGR last year to go and form a new team at Black River High School.
"This year we had the hardest competition in Michigan since the program started," Horos said. "This year was the first year that we had substantial competition that practiced as hard as we did."
However, most of the burden rests on the shoulders of the students participating and the student coaches. The state competition requires a great deal of hard work, and countless hours were put into preparation.
"We prepared for states by working hard in and out of class, and with the help from great people like Michael Barnes," Ryan Distel '19 said.
However, now they have a bigger goal on their mind: the national competition. Taking place sometime in April the competition brings the best team from each state to Washington D.C. to compete for the title.
"I'm looking forward to meeting high schoolers from other states, the hotel life, and chilling in D.C.," Distel said.
With a long road ahead of them the We the People team is now anxiously waiting for the national questions to come out so that they can start preparing.