High school fashionista on social media
Callie Hughes '18 will be attending FIDM to pursue a career in fashion design and push the boundaries of the fashion world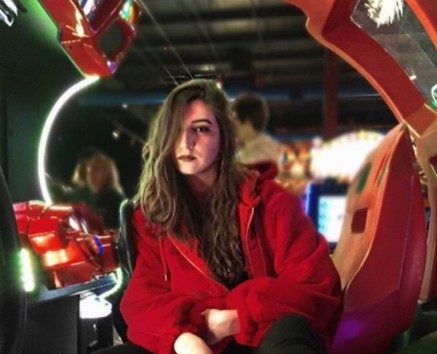 When asked by adults, many young children struggle with the question of "what they want to be" when they grow up. Callie Hughes '18 never had that problem.
"I've always had an eye for fashion," she said. "I've been interested in it ever since I can remember; I was reading fashion books in the Breton Downs library."
From the moment she started paging through those books, Callie fell in love with the world of fashion.
"People and their take on fashion inspires me," she said. "There's no rules in fashion. You can push the boundaries and make it whatever you want it to be."
Her road to becoming a fashion designer later expanded to drawing, advertising and modeling makeup, and running multiple successful social media channels. She has 58,200 thousand followers on her Instagram @ummcallie and one of her top videos on YouTube has 90 thousand views. (You can also find her on Twitter and Snapchat.)
Building this audience was "quite difficult," but Hughes has some encouragement and advice for those seeking to create or increase their own online followings.
"It helps to be authentic and find your own special niche," Hughes said. "I incorporate artists and people whom I'm fans of into my social media and makeup. My favorite is Gucci; their recent runway show was amazing. This has helped a lot because people will think, 'Oh, she has the same favorite band as me and does makeup, this is cool.'"
However, reaching the follower count she has today has come with some adjustments and sacrifices. The excessive amount of traveling that social media required left Hughes with a tough choice about her schooling because EGRHS's attendance policy was too restrictive.
"It just wasn't going to work out," Hughes said.
Doing online school turned out to be the solution.
"It gave me the flexibility to be able to travel and be an influencer but still be able to do school," Hughes said. "My parents weren't too keen on it at first because it's pretty much teaching yourself and motivating yourself to finish school. However, I had friends already doing the same online school ― Great Lakes Cyber Academy ― and so they talked with my friends' parents and after a lot of convincing they let me switch second semester sophomore year."
Hughes switched back to EGRHS for her second semester senior year so she can have the experience of graduating from high school with her friends. Recently she was accepted to the Fashion Institute of Design and Merchandising (FIDM) in Los Angeles.
"I'm looking forward to going to college and meeting lots of new people and just having a lot of new opportunities and doors opened!" Hughes said. "I'm slightly nervous because it's a huge move but I think I'm ready."
She's excited not only for  the next chapter in her life as a college student but also the imminent launch of her career.
"My FIDM portfolio was heavily influenced by Seoul fashion week and the streetwear of people attending," Hughes said. "I'd love to see those pieces be brought to life at Seoul fashion week in the future since it's a smaller fashion week; it's not as ambitious as New York fashion week."
Even when Hughes finally achieves her dreams she knows she'll never tire of her passion.
"It's something where you are forever learning new things," she said of fashion. "I don't think that it'll ever get boring to me. I always can better myself and learn even if I'm fifty and still designing."
Photo courtesy of Callie Hughes.