Evan Bishop, runner extraordinare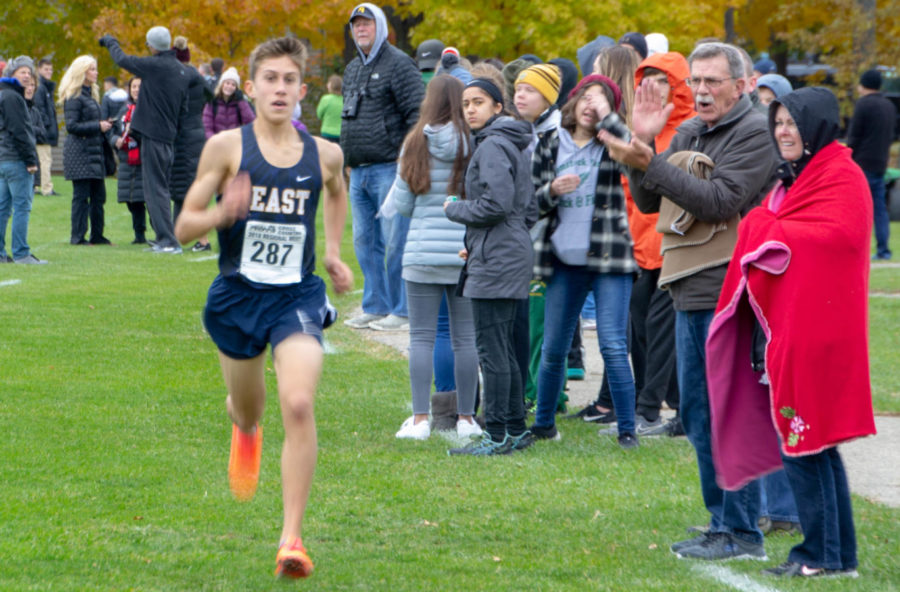 Evan Bishop '20, runner extraordinaire, has had an outstanding cross country season so far. With three major meets left in the XC season, he's outperforming himself. Last season, he finished with a personal record (or P.R.) of 16:03, which had earned him the first slot on the school record board. This year, Evan continues to improve from last year's season, running a 15:25 at a meet in Otsego.
"I've made huge improvements. Last year I had hamstring injuries on both legs that left me out for months, for both the track and cross country seasons. The other big factor was having low iron," Bishop said. In the last nine weeks of the season, he's broken the school record (which he had already claimed) six times.
"It's really great to see all the hard work start to pay off and to see my name up there, it's the fruit of the labor."
Bishop has a personal routine he follows for meet days that he believes helps him to perform above all others. In reference to the days leading up to a meet, Bishop says that "I try to get good sleep two nights before and then eat a really big meal, which is usually pasta at least one of the two nights leading up to the race."
With the change in coaching staff this year, it's a question if the new coach, Dan Rietberg, has had an impact on Bishop's performance as a runner this season. "I think [the new coaching staff] has had a positive impact. A new coach changes things around, the workouts are different, the style of coaching is different."
Bishop is currently ranked 1st in Division 2, Region 11, by twenty-two seconds. In an overall ranking of Division 2, he is ranked fourth, twenty-six seconds slower then Alex Comerford, ranked number 1, with a time of 14:59.
Considering the course conditions that these two have run on in the past, Bishop has had a much better tolerance for courses with rougher conditions, which will benefit him in the upcoming weeks as the EGR Boys Cross Country team prepares for the regional competition as well the state competition.
"
It's really great to see the fruit of the labor."
— Evan Bishop '20
Considering his performance this season, it would come as no surprise to see another school record set on the board by Evan Bishop.