Girls cross country prepares for states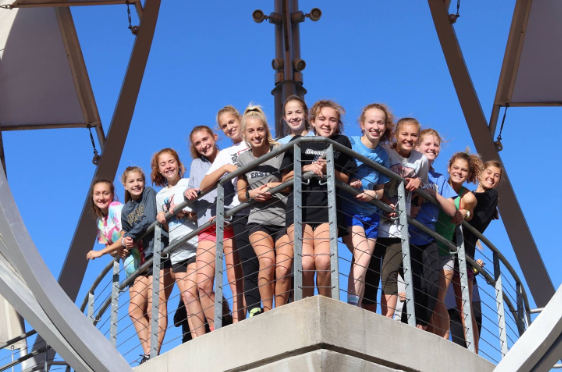 After three months of training and racing, the girls cross country team is heading to States this Saturday.
It is Dan Rietberg's first year as head coach, and he hasn't skipped a beat in helping the girls get this far. Due to different coaching styles and possible loss of traditions, getting into the groove of things with a new coach could be difficult However, the team has adjusted smoothly.
"This year is really different from the past. I think mostly because we have a different coach so our overall schedule and the workouts we do are different," Caroline Roth '20 said. "Team chemistry and most traditions are still the same though."
The team attributes their success to long and strenuous workouts throughout the season.
"We workout six out of seven days a week ranging from 3 to 10 miles," Caroline Roth said. "Because of that, we have gotten a perfect score for 2 different meets and won conferences."
Winning conferences was the first step in making it to states. Winning any sort of playoff game or in this case, race, is very exciting.
"It felt great to win conference," Lucy Byam '21 said. "It was cool that both boys and girls won because that doesn't always happen."
Then, the girls ran at Regionals in Allendale this past Saturday. They continued their trend of success by winning Regionals, meaning they will be running at States at the Michigan International Speedway this Saturday. For the girls, winning states would be a great way to end an exceptional season.
"We have a few people that get in the eighteens or nineteens [minutes], so I think we have a really good chance," Byam said.
"
Next year I'm looking forward to working toward bigger goals with my team."
— Caroline Roth '20
State team for the girls team consists of only fourteen girls, however the entire team will accompany the seven racers at the State meet to finish off the season.
"We're all going to miss our seniors a lot," Roth said. "Next year I'm looking forward to working toward bigger goals with my team and having fun.