Laura Levine, dedicated swimmer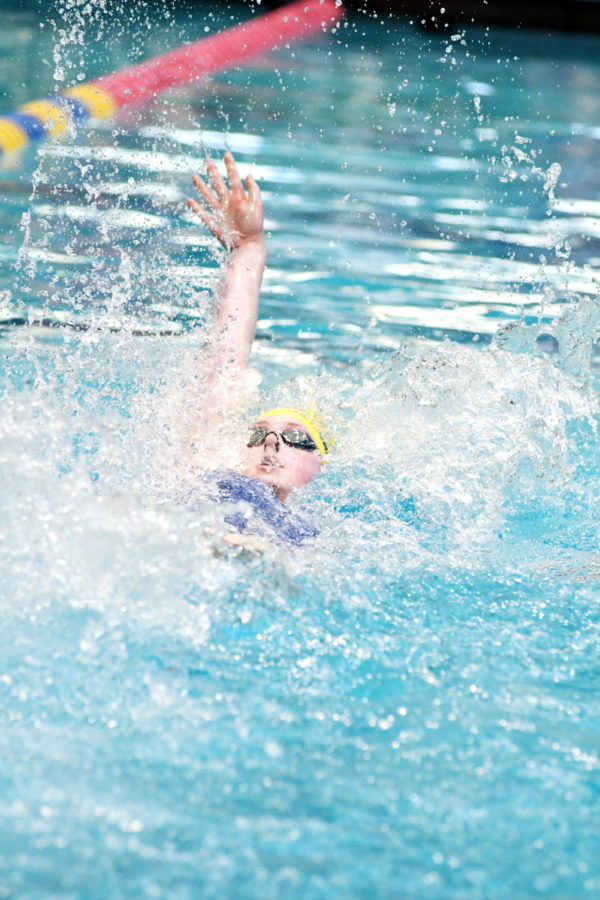 School, swim, sleep, repeat. The everyday routine of swimmer Laura Levine '19 shows her endless dedication for her sport. Levine was a two time finalist in the OK Greater Grand Rapids Championships, a two time finalist in the Michigan Girls Division 2 State Championships, and is ranked #35 in the state.
Levine is an accomplished swimmer, but she did not just jump into the pool and suddenly swim faster than everyone else. Levine's level of skill took years of hard work and dedication.
"I started swimming competitively when I was around six years old, then I moved up the ranks starting with club swimming, then middle school, and now in high school," Levine said.
The fact that Levine has been swimming for so long shows her commitment to the sport. For Levine, the motivating factor that has made her stick with it for so many years is "all of the rewards you get. As your times get faster it's really motivating."
"And there are such great people involved in every team I've been on, so that makes it easier to stay," she added.
Levine is not just your average high school swimmer. She goes above and beyond by swimming for clubs and competing at meets outside of school.
"In high school, it is more about getting to the state meet then that's the end game. But I've tried to take it to another level by going to higher club meets, like Junior Nationals. I did that last year and it opened a new door to higher level swimming," Levine said.
Speaking of higher level swimming, Levine hopes to carry on her swimming career in college.
"It depends on how this season goes, but I would really like to continue at a higher level. Firstly, I would like to make it on a team, and being one of the top swimmers on a big team would be a big deal," Levine said.
With high hopes for her future swimming career, a lot is riding on how well this season goes for Levine. However, the pressure doesn't get in the way of her goals for the year.
"I hope to place top three at Conference and the same at States. And I know for a fact that our team wants to win States this year to continue our winning streak," she said.
Levine continues to work hard every day in hopes of accomplishing her dreams. School, swim, sleep, repeat.