New athletes bring success to their respective teams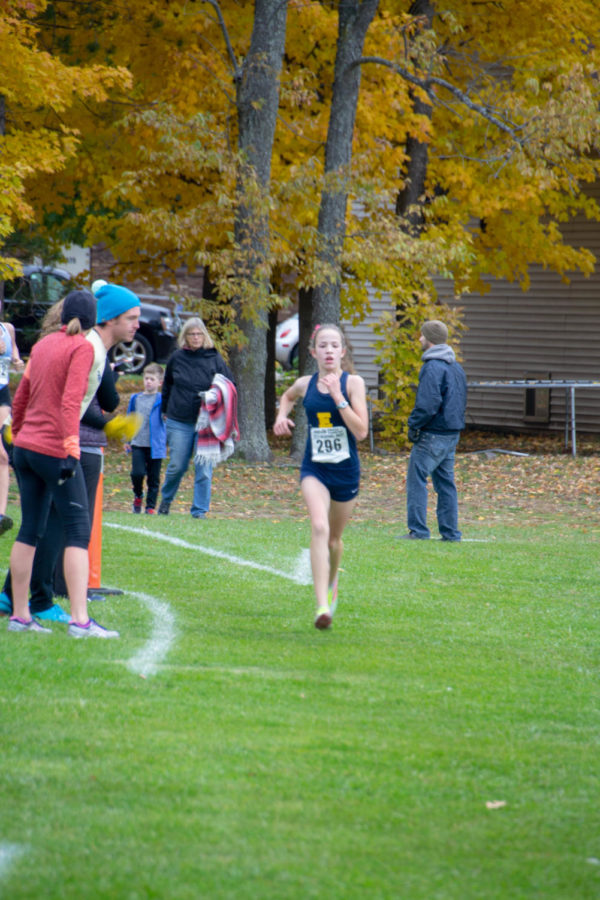 Walking through the East Grand Rapids high schools halls this year are thirty-one new students. One of the ways these newcomers find community and continue to be themselves in a new environment is through joining school sports.
Clara Capel Gomez '21 is originally from Barcelona, Spain. When she was 9 years old she moved to Shanghai, China and lived there until she moved to East.
"Transitioning here wasn't that bad because I already moved from Spain to China and that was the hardest," Capel Gomez said. "Moving here I was just excited to try something new."
Capel Gomez enjoys running cross country, but her true passion is soccer. She's played the sport for five years and is planning on joining the girls soccer team this coming spring.
"I really like the sports here because everyone works together and it's really nice to meet new people," she said.
Like Clara, Katie Edison '22 is also a cross country runner. She ran in middle school for Ada Christian before transferring to East for high school.
"At first I thought it would be hard to change schools and teams but it was really easy and everyone at East is accepting and kind," she said.
Edison is making a huge contribution to the team in only her first year. She currently stands as the seventh fastest runner on the team with a personal record of 19:36. She appreciates her team for supporting her through the season.
"My favorite thing about being an EGR athlete is that you do everything as a team and you always have someone cheering you on," she said.
A Germany native, Lennart Kuehl '19 lived two hours away from Berlin. His 12-year soccer career began in his childhood when he attended a sports academy in Dresden and practiced the sport twice daily. He played soccer for the junior team of SG Dynamo Dresden, which competes in the second German soccer league.
After experiencing multiple injuries, he decided to switch to a normal high school and stop playing competitive soccer a year before moving to East.
"Before I came to the USA, I was little bit nervous, because I didn't know what to expect and because of the new people and culture, but the people incorporated me really well. After a couple weeks it felt like I have always been living here," he said. "I'm glad I can play soccer successfully for the team and the school."
He added that he loved spending time with his soccer teammates.
"The team has a really good cohesion and it's like a family," he said.