Orchestra welcomes new teacher Bree Mitchell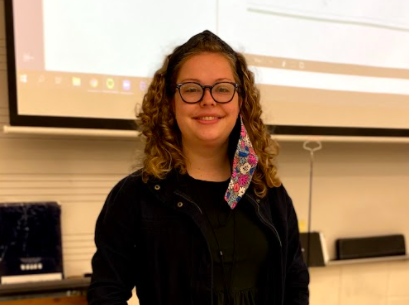 A mix of Corona and the retirement of the beloved Mary Hillyard have brought Breana Mitchell, the new orchestra teacher, to East. She grew up in the area, and being a Michigander it's probably a good thing her favorite color is grey. She applied to East as soon as she got the chance and is excited to start off a year with us, even with the pandemic still raging. She has experienced both band and orchestra and loves both equally for their different spirits; she has a wide range of musical talent.
"I went on viola when I went to school, so I like the viola the most," Mitchell said. "I actually doubled in college on french horn, so I marched mellophone, and I played french horn in wind ensembles." 
She hasn't only played those two instruments though. The first musical instrument she ever learned was piano. "I started taking piano lessons when I was five," Mitchell said. This wide array of instruments lends to great flexibility and understanding of instrumentation as a whole.
This depth of knowledge and experience is a large factor in how she will be the next amazing orchestra teacher of East. Getting to the heart of why she decided to become a music education teacher, it wasn't the instruments that persuaded her.
 "I went into teaching because in 7th grade, there was a singular day when we had a really good orchestra rehearsal and I was like 'I want to share this with everyone," Mitchell said.
 Playing with other people and listening to how all the different sounds go together can be truly life-changing.
There are a lot of things that go on in East and it is a tight community that can make it hard for new people. Community-wise, Mitchell is exceedingly excited about getting to know East more. "So far all my experiences have been pretty positive," Mitchell said. "I still think I'm very new, but everyone has been pretty nice." 
Teachers of East are pillars of the community, and Mitchell can't wait to see what the orchestra will be able to accomplish in the coming years.
"East has a really select, talented program. Historically very awesome," Mitchell said. "I would be excited to make it grow to have maybe a symphony orchestra and take the orchestra on international tours. A Professor at GRCC had one of his sons as a student and he goes to Austria all the time so I was thinking about partnering with him maybe."
This would be monumental for the music program. It would be similar to a college program or Blue Lake International. "I think it would be cool to go play in different places like around Austria or Italy and do some music history stuff as a big long-term goal," Mitchell said. 
Back to thinking of home, she hasn't been in gaslight too much yet, but if she could add one restaurant she would add a Donkey Taqueria. It's easy to tell then that Mitchell loves tacos. "I like tacos any day of the week, anytime, any taco. I had a taco truck at my wedding!" Mitchell said.
After going out to eat tacos, Mitchell comes home to her dog and two cats. "I have a rottweiler-retriever mix named bean and two black cats named Stella and Luna," Mitchell said. Pets are definitely a staple of East homes, and Mitchell seems to be a perfect fit for our community and our school.