A hole in one for Coach of the Year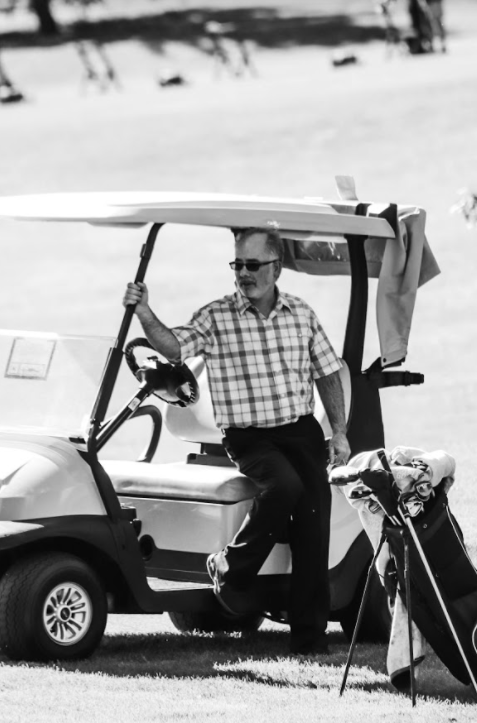 The girl's golf team has faced some serious challenges this year, but the greatest reward for their efforts came with the announcement of the Coach of the Year awards. John Burke was one of three coaches from our school to receive an award from the Coaches Association of Michigan. He won the Regional Coach of the Year for girl's golf.
"Golf is life. You learn a lot about yourself and how to deal with the ups and downs," Burke said. "Golf is the first game my parents taught me. It is an honor and nice to be recognized by my peers. It has been fun to watch the seniors improve their averages dramatically since they were freshmen. For a few years, we had JV and Varsity practice together, so I got to know them early on. They have all worked hard and made me proud to be their coach. This was the first year I have taken a whole team to the state finals. My goal is to return and finish at the top in division 2."
Emma Wert '21 believes Coach Burke is indubitably fit for this award and is extremely excited for him. "Burke has taught me that I need to keep pushing myself and never give up even when I am having a bad day," Wert said. "He has believed in me and really helped me to love golf. Golf has changed my life as it has really strengthened my mental game. Since it is so individual I have has to believe in myself and find ways to get my swing back during a tough round. Not only this, the team has been amazing. I love that gold is a lifelong sport and has helped me make lifelong friends."
Libby Chambers '21 remembers back to sixth grade when she knew Coach Burke would be her golf coach. "He's taught me so many valuable lessons applicable both in and outside of golf that I appreciate him so much and I'll remember him for a long time," Chambers said. "He makes our team great and we're lucky to have him!"
The entire team knows first-hand that Coach Burke is able to make great players of inexperienced and experienced golfers alike. Meg Simon '22 has played since she was little, as have Chambers and Isa Goossens '23 whereas Rachel Williamson '23 had just started a couple of years ago.
"My mom and aunt played college golf at Notre Dame," Simon said. "All of my cousins play golf and we get to play together in the summertime with my grandpa. It is something we can all do together, no matter the age. Golf requires a lot of patience, and Mr. Burke has taught me to have patience with every shot on the golf course."
Goossens has also been playing since she was young, and has grown up loving the sport. "I would play junior golf at Cascade and still practice twice a week there. Mr. Burke has improved me a lot in my chipping and also with hard shots from behind trees," Goossens said.
Williamson on the other hand had started later in life and wanted to try out the sport. After a few practices, it became a ritual activity for her. "I started golf a couple of years ago and since then it has become something I do almost every day in the summer and fall," Williamson said. "Mr. Burke always keeps his cool and he is very good at noticing small technical details. He's taught me to experiment with random different things until you have a shot for every situation."
Burke has been committed to the team and the sport of golf for every season they have played and making it to States for the first time in eight years is a big deal that is sure to bring momentum to the team. Next year will be a crazy year, and Coach Burke and the girl's golf team will be ready for their next challenge on the course, bring sunshine or sandpit.