Back to 'Normal'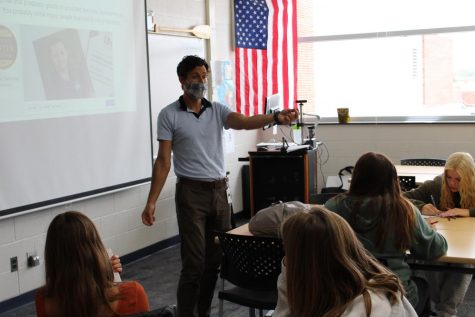 Students returned to school on Aug. 23 fully in person with optional masks, while teachers returned with mandatory face coverings.
This decision was made largely due to the community's high vaccination rate. About 95% of people aged 12 to 17 have gotten vaccinated, making East Grand Rapids's vaccination rate one of the highest in the state.
"Our community went out and really supported ending the pandemic by getting vaccinated, and that's a huge reason why we're not worried," Principal Craig Weigel said.
This decision was not made without discourse. A protest was held in August by the Smart Science Alliance, a group of concerned Kent County parents, to support universal masking in schools.
Demonstrators gathered outside the Kent County Health Department and were met with an even larger counterprotest. American flags, loudspeakers, and chants demanding "no more masks" dominated the opposite side of the crosswalk.
But despite differing opinions, optional masking has given students more freedom in their extracurricular activities.
For Juliette Bruck '23, that means playing sports without the restrictions of a facial covering. "Every day I go to the gym for softball and I don't have to wear a mask when I'm practicing," Bruck said. "It's nice to come back and not have to wear and mask for the whole day, but if it was a regulation I wouldn't mind."
While the majority of students have elected not to wear a facial covering, James Craig '24 wears a mask to protect their family.
"I [wear a mask] because my little sister is unvaccinated so I'm just trying to be safe for her," they said. "[Being in person] just makes everything so much less complicated in class, especially group projects."
Weigel said the decision to require masks for teachers was to add an additional measure of safety.
"There are some situations where we felt like teachers wearing masks made sense in terms of keeping them safe and keeping other students safe," he said. "I think that'll be revisited down the road as we navigate through this fall, but out of an abundance of caution, we thought that was an appropriate step just to make sure that all of our staff are safe."
Last year's lack of football games, dances, and spirit assemblies contributed to a general feeling of bleakness marked by COVID-19. But with lifting restrictions, there's promise of a "normal" school year.
"We have all of our normal co-curricular activities taking place right now and that's awesome to see students getting involved again and participating in their respective activities as well as coming spectators," Weigel said. "Having the ability to build climate culture through school activities is essential to a healthy school environment."