Henry Pestka Art and Poetry Competition aims to "Never Forget"
Local contest sponsored by the West Michigan Holocaust Partnership honors Pestka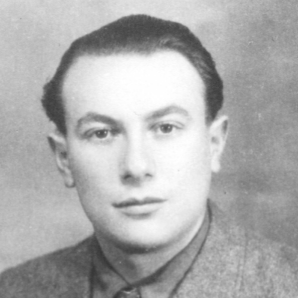 Living in a community like East Grand Rapids can make us feel disconnected from many of the issues that affect the world, but despite our comfortable lives, it's as important as ever to stay vigilant about being aware. One of the most important aspects of that is remembrance.
Henry Pestka was born in 1919 in Poland. As a Jewish man, he was subjected to the horrors of the holocaust. He, luckily, was able to escape and join Polish fighters in their fight against the Nazis.
After the war, he settled in Grand Rapids, and got a job as an auto worker. He put down roots in the area, getting married and having children. He started a building and real estate company, and used the success he had there to help build the Ahavas Israel Congregation. He passed away in 2013.
This year, a new contest to honor him has been founded. The theme is "Never Forget". The contest is taking place across West Michigan, and the person in charge of it in East is Social Studies teacher Tad Vandenbrink.
"A product that can be entered for the competition could be a poem up to 30 lines. It could be prose up to 500 words or some sort of two dimensional art that you can take a picture of," Vandenbrink said.
The theme, "Never Forget", is to encourage the proactive rejection of antisemitism, as well as education about both the atrocities committed, and how they happened.
"So I think another component of this competition is to bring about the awareness that the events that led to the Holocaust, Hitler, Nazis, and the antisemitism that existed in the thirties and for-ties, it existed well before then," Vandenbrink said.
The problem hasn't gone away, and defending against antisemitism is still crucial today.
"The West Michigan Holocaust Memorial website [has] been attacked over 40,000 times by ransomware, which is a symbol of just how antisemitism is still prevalent in our society today," Vandenbrink said.
The winning entries will be awarded a spot at Frederick Meijer Garden, as well as a cash prize, with first place winning $150, second $100, and third $50. Entries are due on Feb. 10. Winners will be announced in March.
Anybody can submit, and there are different competitions for every grade level sixth through
twelfth. Submissions can be made at wgvu.org/pestka. The competition is being run by the West Michigan Holocaust Partnership, comprised of the Anti-Defamation League, East Grand Rapids Public Schools, Fredrick Meijer Gardens and Sculpture Park, Grand Valley State University, The Jewish Federation of Grand Rapids, and WGVU Public Media.
Entries will be scored on five categories: Form & Guidelines, Creativity & Originality, Choices & Technique, Interpretation of Theme, and overall. Each category will receive a score of one to four, and ties will be broken by the score in Creativity & Originality.
If you want any additional information, or have any questions, you can contact Mr. Vandenbrink for any clarification you may need.