Community partners with CAC for Hearts of Gold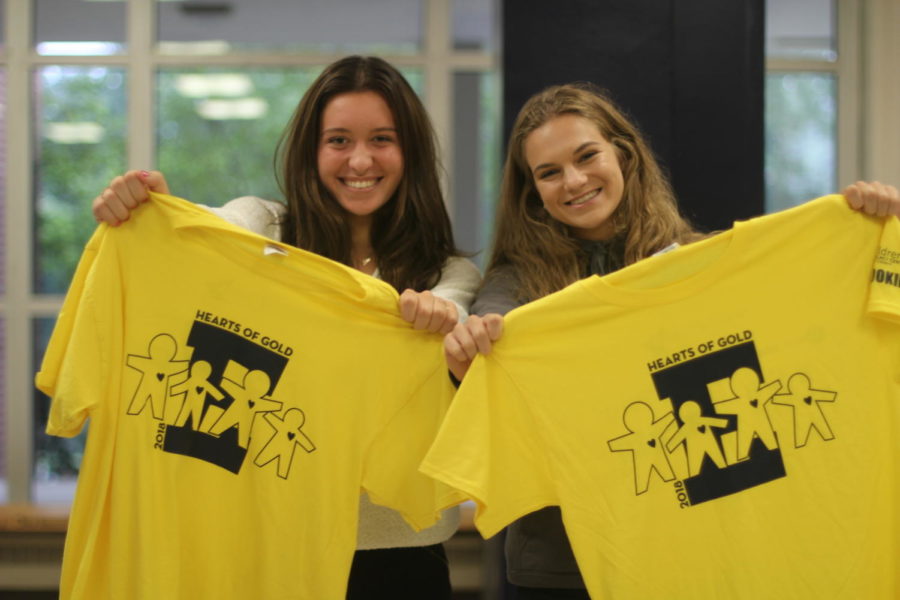 The Children's Assessment Center (CAC) has made it their mission to recognize, report, and reduce child sexual abuse across the country. This year, the Hearts of Gold foundation has chosen to pair with this organization, located in Kent Country, to raise money and help children and their families achieve healing and justice.
Kate MacKeigan '19 chose the CAC with the goal to raise 1000 dollars to support the center.
"Hearts of Gold votes every year on an organization to support, and we chose the CAC because of their ability to help children that have been affected by sexual abuse," Mackeigan said. "Every year we sell thousands of T-shirts to spread our hearts of gold. The local businesses are a huge participant in our goal. Every year we want the whole community to get involved, and we want each student to feel the desire to donate their lunch money or have a lemonade sale to raise money for children in need."
Members of the Student Council, Primetime Pioneers, Key club, as well as The East Vision, went on site to the center last week, and were taken through the process of a child coming to the center for assessment. The students were shown the steps of receiving help and healing from the center, including a forensic interview and free unlimited counseling sessions through their adolescence. The statistics they shared with the group were shocking. Before children reach the age of eighteen, one in every seven girls and one in every twenty-five boys will be sexually assaulted. Also, one in every nine children over the age of ten will be solicited sexually online. The CAC stresses that 99% of these abusers are people that the victim knows, smashing the stereotype of "stranger danger".
As a non-profit organization, the CAC relies solely on donations. They have initiated seminars for students in grades kindergarten through fourth at Lakeside, Breton, and Wealthy Elementary to explain to them what types of adult contact is appropriate and what types should warrant alarm.
Because over 1,000 child sexual abuse cases are reported each year in Kent Country, these in-school visits  are extremely important for ensuring the safety of kids in the East Grand Rapids Community and beyond. The money raised by Hearts of Gold this year will be utilized to extend the school visits to fifth grade students, as well as continue to provide children with the help and support they need.