Jane Bergenzer breaks the ice as East's first female Varsity Hockey player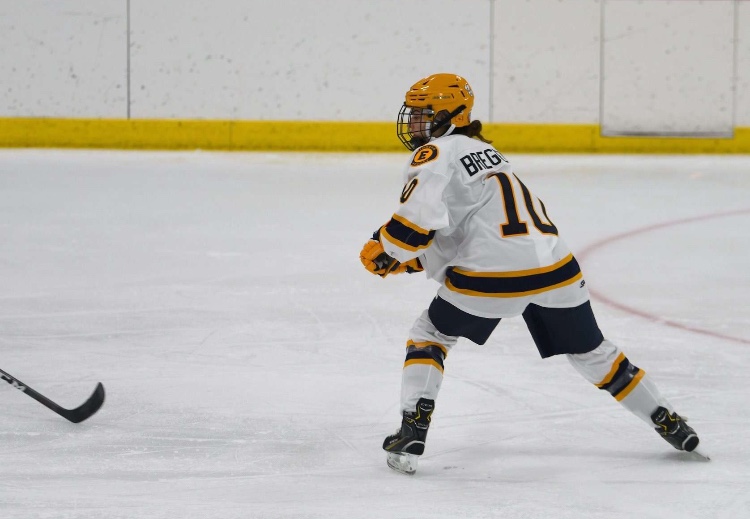 Historically, hockey has been a sport played by primary men. As times have changed, though, women have played a more significant role in the sport. In 2015 the National Women's Hockey League was established, and colleges and high schools have progressively begun to form girl's hockey teams. Though East does not have a girl's hockey team, Jane Bergenzer '21 is a member this year and is pioneering the beginning of a new era in East Grand Rapids Hockey.
Bergenzer is no stranger to playing on a team with boys: first grade through probably fifth grade, she was on a coed team. Due to her prior experience, she's comfortable playing on this team but recognizes that there are certainly challenges. "There are physical ones," according to Bergenzer, "I'm smaller, so I just get wrecked." Additionally, she has a locker room to herself, which makes it hard for her to take part in the pregame fun.
Still, to her, being on the team "is really fun," and she has noticed that she has "probably gotten better hockey-wise." Ever the optimist, she remarked that she "thinks [they're] going to do really well, later on."
Being the only girl on a high school hockey team is no easy feat, but to Bergenzer the benefits far outweigh the drawbacks. Although fitting in on the team is easy for Bregenzer as she states that "a lot of the players on the team are my friends," she still wishes there was more interest from other girls at this school.
The rest of the team is very appreciative to play another person whose love for the sport is just as strong, if not stronger, than their own. Robbie Stuursma '20 says, "Jane works really hard and brings focused energy to the team." With these traits, this team is bound for greatness.
This 20-person team is working hard and they already have three wins this season. The team dynamic is the same as always and is filled with driven hockey players. Jane Bregenzer was a great addition to this team, and this team will be great for her hockey career.