Bagel Kitchen: Will This Restaurant Finally Be a Winner in Gaslight Village?
The first few weeks of school are behind us and as the initial excitement fades, the newly opened Bagel Kitchen promises to fill the niche of bakery-lunch hybrid in its draw of students during the lunch hours. The Bagel Kitchen offers bagels in every way you could imagine: toasted, buttered, with cream cheese, and even a variety of bagel sandwiches. The Bagel Kitchen, owned by Schulz proves to be a fierce competitor in the harsh environment of Gaslight Village, battling to become a favorite lunchtime spot.
Its popularity is obviously apparent. Students flock every day to the Kitchen to order, eat, and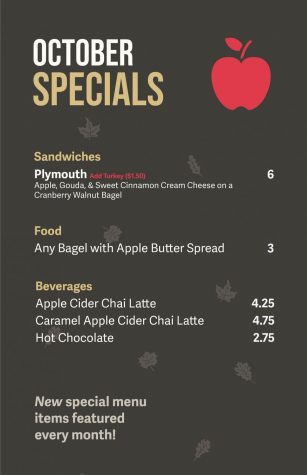 socialize. The many tables and chairs make it a social environment accessible due to its proximity to the high school.
The menu is a bagel lover's breakfast dream and more. There are 11 different bagels available for order, each with the option of
being toasted, buttered, or topped with one of the five spreads. There are five bagel sandwiches available as well, each served with multiple high-quality toppings.
In addition to the food, there are both hot and cold drinks available, with various coffees and teas, and even some daily brewed options.
Success isn't always an easy thing in Gaslight Village.
Over the years there have been plenty of things that come and go, like a Sweet Yo's that couldn't
compete with the summer-time staple of Jersey Junction, or a Biggby Coffee that was further away from the High School than the previously established Starbucks. The Bagel Kitchen checks two very important boxes: it is unique, and it's easily accessible to students.
Schulz chose the bagel idea from his family's experience in another location; Costa Rica. He had opened a similar restaurant to cater to the wants of many people in the community there.
Gaslight Village was somewhere he wanted to get into, and he was excited this year because he was looking forward to making something for the community he lives in and knows a lot about. The most recent bakery in Gaslight Village closed in 2005.
In terms of business, Schulz says they have been on track with what they were hoping to do so far. They've had plenty of
customers and enough employees to meet the demand. For the future, Schulz wants to keep things simple. "Bagels will always be the main thing," he said.
He plans on coming up with things to keep customers coming back regularly, such as monthly bagels, spreads, and drinks, starting as soon as October. He also plans on introducing a seasonal salad to the menu, as well as overnight oats, providing a variety of options for customers.
With some renovations being finished this past week, the Bagel Kitchen hopes to socially cement itself as the newest addition to the Gaslight Village lunchtime lineup.