Charley Bayer Breaks 41-Year Old All-state Diving Record
On Mar. 12, Charley Bayer '22 broke a 41-year-old all-class record, scoring 590.85 points in the 11-dive. This wasn't on purpose.
With a state championship title already under his belt, Bayer's goal was to defeat the previous Division 3 State Record of 520.20, previously held by friend and former teammate Cayden Petrak of St. Johns. 
Before his set of dives were completed, Bayer had already shattered the Division 3 record. But in his final dive, Bayer unseated a different titleholder–former Olympic silver-medalist Bruce Kimball.
"I was not aware of the all-class record, it wasn't on my radar," Bayer said. "That wasn't really something to be broken until my coach came up and told me that I had just broken the all-class record that was set in 1981. It was something I had been indirectly working for many years, an absolute surreal feeling."
A familiar face to many, Bayer is a regular member of Primetime Pioneers, was previously elected Homecoming King, and regularly participates in spirit activities.
"I think once I graduate," Bayer said, "the thing I'm going to miss the most about East Grand Rapids is how tight of a community it is. I think it's really rare to find a community and school district that is so tightly knit and cares about each other so much."
Bayer, who has been diving for six years, plans to continue his athletic career at the University of South Carolina.
"I didn't want to make my decision strictly based on athletics but also academics," he said. "A big factor to choose South Carolina was because of its school of business, a great program where I'm planning on studying either business, economics, or supply chain management."
"At East, we're so fortunate to have such outstanding programs, coaches, and facilities. As students, we have access to so many resources that others just do not have. We're so lucky for this."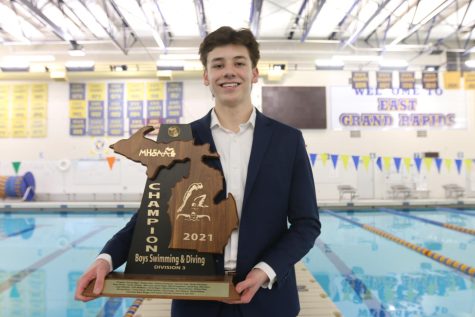 After years of athletic commitment, Bayer always emphasized the importance of friendly competition and teamwork. 
"Having good teammates to compete against and push each other that will also hold you accountable are some of the biggest things for me," Bayer said. "If it wasn't for people like them, I wouldn't be where I am today.
"If you really want something, East Grand Rapids is a great place to achieve your academic and athletic goals. You need to understand that you can do whatever you put your mind to if you work hard enough."